[Release Build] v18.9.19.0 

 –  Download below (scroll down for release notes)
NOTE:  the download may not reflect the current version, however it will update during the first launch.
This d7x (Blank Config) is a completely empty of any configuration and best suited for those who want to start from scratch or those who already have a config to import from a previous edition of d7IIx or d7II.
d7x Files (Starter Config)
The d7x (Starter Config) download has pre-defined custom apps profiles and templates to get you started with minimal configuration to replace default logos and other branding items.  See the
dMZ downloads area
 for online instructions.
d7x Additions (Definitions)
These optional definitions (whitelists and malware hashes) can be added to either d7x download to the left, and are used with d7x internal functions such as KillEmAll, dUninstaller, and Malware Search Tool 3000.
Please keep up with current information and announcements via our newsletter and blog/RSS feeds, and subscribe to our Youtube channel for videos and upcoming/on-air notifications of the Foolish Tech Show!  See "LINKS to ALL d7x Resources and Information" below for these and other important links!
Initial Setup (for New Subscribers)
[Revision In Process]  The information below was originally written for d7II, but also applies to d7x.  Some interface screen shots and other information may not apply to d7x (for example, "Check for Updates" is not applicable as d7x currently manages updates automatically and without user interface.)
Please see d7x Server Connectivity if you are experiencing connectivity issues when attempting to activate your d7x license.
1.  Disable Anti-Virus/Security Software
This may be necessary to prevent false positives in legitimate/clean copies of d7x, d7II, related binaries, and many other optional 3rd party applications that a PC technician may choose to use in a malware removal or Windows repair scenario.  Typically all protection settings must be disabled entirely (no matter how irrelevant they seem, like web protection features) in order to run this and other legitimate software used in PC repair, even from within Windows safe mode!
From time to time, we may document some of the harder to disable anti-virus software here:  https://www.youtube.com/playlist?list=PLRH8ZC4G_wWH2zwDL1Fo-fpFhnOyu9Dh2
2.  Extract the download to a new folder
Extract to a new folder, anywhere on the hard drive.  d7x/d7II are both portable applications not requiring installation, and may run anywhere on the local system.
Typically we extract to a folder on the user's Desktop.  When run from outside the local file system, both d7x and d7II will copy the needed components locally as necessary, by default to the %systemdrive%\Support\d7x (or d7II) folder.
d7x is designed to run from the same folder as the older d7II software, and to use the same resources and session data, however the two .exe files will never run simultaneously on the same system at the same time.
Since d7x is very new, this behavior was designed so that if a problem prevents d7x from completing a repair, d7II may be used to finish that repair, continuing where d7x left off (even restarting in the middle of an auto mode.)  By design, d7x will not run after d7II is launched on a system, until the "End Session" option has been used from d7II (more on that in The 'Session' Concept section below.)
3.  Launch the d7x or d7II executable
 3a.  (Recommended for new users!)  Skip the last configuration step by heading to the dMZ Additional Downloads page for a "fully loaded" download (your dMZ based "uid-" login is required.)  
This download is complete with many settings configured for ease of use, as well as custom apps and internal functionality already populated and arranged with best practices in mind.  This provides a great basis for getting started, and you can make changes at any time.
The download also contains our large collection of file system/registry whitelists, used with dFunk/MalwareScan, dUninstaller, KillEmAll, and other areas of d7x/d7II.  These whitelists were created from clean installations of Windows XP – Windows 10; please be aware that we never distribute blacklists.  They can also be removed at any time simply by deleting the files (currently all definition files [*.*] are located in the \Modules\Defs directory, with the exception of the newer KillEmAll v5 based definitions.)
 3b.  (The "Clean Install" method)  Launch the numbered d7x vx.x.x.x.exe (or d7II.exe if preferred) and allow it to self-update as necessary, and download/extract any other necessary components.
The software should soon prompt you to enter your license information.  Please be patient, the first run can take a minute, especially with d7x (which may not appear visible on screen at first; current FastTrack builds do not display a status window.)  If the software is running in Task Manager and using resources, allow it to finish.  If absent, or the software does restart after a self-update, just double-click the exe to start it up again, at which point you should see the prompt you to enter your license information.
 3c.  Existing users (who wish to save existing configurations) should instead read "Updating d7II to d7x" in on the main page of the d7x Manual.
4.  Product Registration/Activation
PLEASE NOTE:  You only need to register/activate d7x one time, after which you will copy the entire d7x folder (where you extracted it) for your technicians to use through network paths, on flash drives, etc.  The manual also contains a section for the d7x Remote Deployment Tool, which you can create once d7x is initially activated.
To successfully activate and use the software:
a.  You will need the provided d7x Account (formerly d7II or dCloud) login credentials.  These were automatically sent to the email address you used to purchase, immediately after making payment.  If you did not receive that email, we can resend as necessary, but please check your SPAM first (if it was blocked once…)
b. This step applies ONLY if you purchased your subscription prior to August 2018:  You will need your registered company name and the product/license key for activation, which we send to you after we setup your account on our servers.  PLEASE NOTE:  The software is required to reflect your company name in the title bar of the application, which you provided during checkout/payment.  Your company name is tied to your product/activation key, so that it cannot be changed without invalidating the product license.  The company name cannot be modified after account creation without additional charges; contact us for more information.
c.  You are asked to create your own "Technician Password", which is NOT related to the d7x Account credentials.  You will create this password to use for encrypting any data you store on our servers (we do not need this from you.)  This password is also for your technicians to use with various d7x functionality, so don't make it too difficult!  Please see The "Technician Password" for important details.
Once started, click the Main drop-down menu of the d7x/d7II interface, then click Check for Updates.
d7II:  Update everything that it automatically checks for you.
d7x:  Only if you are missing the d7II files (for use as a backup should d7x fail) this will prompt to download these for you.  If you already have the d7II files, the message simply states that updates are managed automatically.
6:  (Final)  Configure and Populate Custom Actions
(If you chose step 3a , you can skip this step.)  
Populate the custom action lists in the main interface as desired, to include the d7x/d7II internal functionality and custom apps you wish to use.  For the "Auto Mode" on each tab, these functions and apps will run in order, from top to bottom, left to right.
To add custom apps to each section of d7II, go to the Main menu > Config > Custom Apps > Assign App / Function To Section.  Here you can simply drag and drop apps from the list on the left to the selected section (list on the right) to populate them by section.  (You can also add functionality and apps to the sections in the interface via right-click menu option, but for initial setup please go to the Config area to use the RESET option.)
For initial setup, you should use the RESET button on the bottom right to auto-populate some default apps/functions into the fields.  From there you can continue to arrange as necessary, and don't forget to browse through the config, particularly the first tab on Behavior and the second tab for Sessions.
Register d7x one time only, and make copies of the d7x folder for any other technicians using the product after registration and initial configuration.
Always keep fully configured copies of d7x on tech bench computers, network shares, and flash drives; avoid using the remote deployment tools unless actually working remotely.
When you need to register a new copy of d7x (or any fresh download of any d7II product) then please use the Browse button at the registration prompt to find/import your existing d7II\Config\Reg.Settings.dat file, which ensures the exact same "Technician Password" is used.  This does NOT import your entire configuration, but instead only imports account credentials, registration data, and the "Technician Password" itself.
We also highly recommend checking out the dMZ 'Starter Videos' here for the same material in depth and tons more content.
Updating from d7II (for Existing Subscribers)
Update Method:
Download the blank config zip file, place d7x v0.0.0.0.exe inside an existing directory with a registered/working copy of d7II.exe, and be sure you have not launched d7II on that PC prior to starting d7x, OR if you have, you must End Session from d7II before you can use d7x.  When you start the d7x exe, it will use the existing resources from that copy of d7II including the registration information.
Download Method:
Download the blank config zip file, extract d7x v0.0.0.0.exe to an empty folder, launch and register it.  It is strongly recommended to register d7x (or any fresh download of a d7x or d7II product) by using the Browse button to find/import your existing d7II\Config\Reg.Settings.dat file, which ensures the exact same "Technician Password" is used; see the note on the Technician Password below for more information.
Notes:  (All Methods)
#1  The "Technician Password"  (IMPORTANT!)
#2  For remote usage, please see d7xRDT, the "d7II SFX Mini" replacement (Video)
#3  If for some reason you are updating from d7II v2.x (which was not forced to update to d7II 3.x) then you may want to see this article:  Recreate the d7II v2.x Look and Feel
The 'Session' Concept (IMPORTANT!)
d7x/d7II Usage:  The 'Session' Concept
d7x and d7II both use a 'session' concept, which you can think of as a "Repair Session" or "Malware Removal Session" where "session" could be substituted with "job."
*** Always use the "End Session" button when finished with d7x or d7II on any system, even if you launched the software once, did nothing, and closed it.  The "End Session" button can seen as an option when clicking the red X to close the main d7x/d7II interface.  If that's enough explanation, then you can skip the rest of this section, which explains what a 'session' is and what it does.
Both d7x and d7II will start a new session when launched for the first time, on any system that it was never previously used on, or where it has ended a previous session.  During this first run in a new session, certain temporary system modifications will take place, such as:
 * Creates registry entries necessary for operation for auto mode functionality with itself (remembering options after reboot or program restarts) as well as for exchanging settings and path information for external applications used with d7II/d7x, for scripting functionality, and for 3rd party applications that you may be using.
 * Applies whitelisting to Windows Defender (where possible) on d7x/d7II and subdirectories.
 * Applies group policy settings (if configured) such as Windows Update and even using a WSUS server on your local network.
 * Applies other preferences in Windows settings that you use to work on a system, such as showing hidden files, system files, file extensions, and more!
 * Creates a desktop shortcut to the d7x/d7II executable or the parent directory if configured (assuming you don't just run it from a folder on the desktop…)
 * Installs right-click context menu items in Windows Explorer (the 'shell extensions') to be used for quick work with d7x/d7II on files in the file system.
 * Automatically run any scripts, d7x/d7II internal functions including creating system reports, or 3rd party applications that you have configured.
In order to remove these session specific settings (especially the Explorer context menus) you MUST use the "End Session" button on the "End Session" tab after you are finished with d7x/d7II on that system.
Alternately, the red X button at the top right of the app will give you the End Session option as well, executing the End Session options as configured on the "End Session" tab.
End Session can also be configured to perform other automated tasks, such as:
 * Email reports/logs to the tech.
 * Upload reports/logs to your self-hosted FTP, including a method to send reports to your customer ticket in the 3rd party PC Repair Tracker software.
 * Upload any configuration changes made during the session, either to our cloud storage or your self-hosted FTP.
 * Apply other settings changes to Windows.
 * Automatically run any scripts, d7x/d7II internal functions, or even install other 3rd party applications that you have configured.
 * d7x and d7II can also self-delete after the End Session tasks complete (this will delete the entire folder where the d7x or d7II.exe files are located.) 
You could think of it as an "install" and "uninstall" however the terms are not correct in that d7x/d7II are portable applications, which can be run from anywhere with no installation package or process.  As such, you won't find them in the installed programs lists of Windows Settings/Control Panel, and therefore there is no uninstall package to worry about.  Simply close the program a different way (End Session) when you are finished!
Those familiar with the original d7 may know that it performed many of these temporary system modifications at each program start, and also removed them at each shutdown.  This behavior was changed with d7II to increase startup speed and mitigate other potential issues, as well as to add easy indicators for applying other permanent modifications that can be made as you have configured them (such as applying your custom branding to the operating system) but these aren't applicable here.
Final Note:  If at any point in time d7II is launched on a system, you cannot start d7x until you End Session from d7II.  d7x will always find and launch d7II.exe, terminating itself on success.  This is by design, in order to properly preserve session data and reports, so that you may safely finish your work with d7II.exe as necessary (in the event d7x is not functional.) 
Technician Password (IMPORTANT!)
The first time d7x or d7II.exe is launched without an existing registration file, the user is prompted to create the "Technician Password", which is NOT related to the d7x Account (aka dCloud) credentials.
This password is used as an encryption key for your customized d7x/d7II configurations, when stored in the dCloud portal or on your own self-hosted FTP server.
It is also used for various d7x functionality (e.g. "Main" menu > "Lock Screen") so rather than receiving a randomly generated password from us, it should be familiar and easy enough for any techs using the product to remember.
Potential problems

:  
Unexpected registration prompt on d7x (or d7II) startup, indicating a blank configuration; occurs after updating a config from dCloud/FTP.
If a different "Technician Password" is used to register multiple copies of d7x (including d7II) and these copies are in use, especially when using the same config name (such as the Default) this will cause config data previously encrypted by earlier copies of the software (such as your dCloud/FTP stored configurations and branding customizations) to be unreadable in other copies of d7x or d7II, including the SFX Mini and d7xRDT tools used for remote deployment.
If multiple configs encrypted with different Technician Passwords are saved/uploaded to dCloud/FTP overwriting a previous config of the same name (note your settings may be configured to auto-save during End Session) then any other copies of d7x/d7II/SFX Mini/d7xRDT configured with the other Technician Password will also update to a blank configuration.
Solving these problems

:
We can decrypt your password from the Reg.Settings.dat, however we can do nothing without obtaining this file from a registered d7x (or d7II) configuration.  Without the password itself, there is no way to gain access to your encrypted config archive on our servers, nor can we retrieve it from the remote deployment tools (d7xRDT or d7II SFX Mini.)
Without an existing config and the Reg.Settings.dat file, you will simply need to reconfigure d7x from scratch.  Be aware the issue WILL reoccur when you use older copies configured with the older Technician Password, so especially with the remote deployment tools, you should destroy all older copies of these and d7II/d7x that would be using the old password.
Avoid these scenarios

:
For new subscribers, if the account credentials and registration/product key are given to multiple techs instead of copies of the registered software, then they will create the issue by using different Technician Passwords when registering separately.
For existing users, registering a new copy of d7x (or d7II) or "fresh download" can lead to this problem.  If the tech has never (or rarely) used certain features in d7II requiring the Technician Password to proceed (e.g. "Main" menu > "Lock Screen") they may not remember the password created during initial registration, or even what it was for, and use a different password when registering a new copy.
Additionally, relying entirely on the remote deployment tools (d7xRDT or d7II SFX Mini) can lead to loss of your configuration, should this problem occur.  Not only do they slow down initial startup and always require internet access, but they will also fail to extract your config if it is ever saved/uploaded by any copy using a different Technician Password.
Best Practices

:
Register d7x one time only, and make copies of the d7x folder for any other technicians using the product after registering.
Always keep fully configured copies of d7x on tech bench computers, network shares, and flash drives; avoid using the remote deployment tools unless actually working remotely.
When you need to register a new copy of d7x (or any fresh download of any d7II product) then please use the Browse button at the registration prompt to find/import your existing d7II\Config\Reg.Settings.dat file, which ensures the exact same "Technician Password" is used.  This does NOT import your entire configuration, but instead only imports account credentials, registration data, and the "Technician Password" itself.
If you do not wish to import the registration file, keep in mind that while you may copy/paste your registration information manually, you must be certain to type in the exact same "Technician Password" (case sensitive) to avoid these issues in the future.  While we can decode this password from an unencrypted d7II based settings file (if you had one available to send us) we cannot retrieve the password from an encrypted configuration archive (either on our servers or in your possession) since that very password was used to perform the encryption!
Failure/Crash Recovery (Using both d7x and d7II on the same PC)
d7x Failure/Crash Recovery
Please see d7x Server Connectivity for issues in activating d7x, using the Config Mgmt Portal, or the d7xRDT.
If at any point during a session/repair/'Auto Mode' you encounter a bug with d7x, you can shut it down or discontinue usage after a crash (but do NOT "End Session" from d7x) then simply launch d7II.exe from within the same folder, using d7II to finish the job.
d7II.exe will resume whatever you were doing with d7x prior to a stall or crash; even a full auto mode should resume as if Windows or d7II had only restarted during the process.
Please keep in mind:
1.  Please try d7x again, it may not have "failed" to perform the task, but only failed to "re-launch" itself after the task, or failed to "stay active" and visible during a task or when running custom app (especially if the custom apps might interfere with d7x's operation.)
2.  Ensure the d7x process has terminated, reboot the PC (may not be necessary, but helpful) and run the older d7II.exe, which will pick up on d7II style session data (written by d7x during it's operations for backwards compatibility.)
3.  You cannot switch back to d7x until you End Session from d7II, but in order to properly preserve session data and reports, you may safely finish your work entirely with d7II.exe on that system.  d7x is designed to launch d7II instead (and/or self-terminate) when an active d7II session is found.
Using both d7x and d7II on the same PC
100% operational compatibility exists between d7II.exe and d7x v0.0.0.0.exe on the same PC, from any folder, or within the same folder structure as d7II.exe (while sharing the same d7II owner/account/dCloud/Self-Hosted FTP) with two caveats:
1. It is important to remember that d7x.exe (meaning any version, e.g. "d7x v0.0.0.0.exe") serves as a replacement for d7II.exe, therefore you MUST NOT run them both at the same time, not even from different folders or drives!
2. Also you must ALWAYS "End Session" from d7II if it has run on the system at any time prior to running any d7x.exe version.  End Session is normally performed as if you were done with a repair/cleanup/removal/etc. "session" on a client's PC, and ready to remove your tools.
100% configuration compatibility exists to read and apply config settings from d7II.exe –> within d7x v0.0.0.0.exe
d7x uses all d7II settings appropriately, even where d7II did not (some settings linked to features that were not functional in d7II will now operate properly in d7x, causing some minor but noticeable changes in behavior.)
* For example, the "Pre-Download" setting removed from d7II (due to operational issues) is once again functional in d7x; therefore if the d7II configuration was saved when the feature was available, it will take effect in d7x to download any missing custom apps (including those internally used for the selected functionality) at the beginning of an individual auto mode, or at session startup depending on how it was configured.  
Other behavioral changes may be discovered, since the d7x Platform code has resolved a number of unknown or unintended behaviors with d7II code that we just won't know about until they are found (which isn't likely to be very soon since d7II is huge with a vast number of different features.)
99% configuration backwards compatibility exists to read and apply config settings from d7x v0.0.0.0.exe –> within d7II.exe
Some config settings have been modified in d7x, therefore changes from the d7x interface may not always be reflected or obeyed in d7II.  We expect this to be the case for more in the future, soon moving to 0% backwards compatibility for config settings.  Of course any settings related to newer d7x features are already not read by d7II.  
More Details:  
Depending on version, running both the d7x and d7II process simultaneously may not be possible, even from different paths.  With either d7x or d7II, the second process instance you launched would recognize the existing process, and submit to the primary instance by terminating itself.  This behavior is not guaranteed between the differently named apps, so please do not rely on it.
Further, when d7II session data is found in the registry, a new d7x process will run the existing d7II.exe and terminate itself (even when the process isn't running, but the d7II.exe file exists.)  If the d7II.exe file does not exist, d7x would continue but still use the existing set of app/config/report folders already determined by the previous copy of d7II.  In this case d7x.exe would use the deleted d7IIx.exe's session folders, which isn't desirable (to fix, End Session from d7x before relaunching the same d7x.exe file again to start a new session.)
End Session is NOT a limitation with d7II.exe running after a previous instance of d7x.exe, which presents a major benefit.  Because d7x currently operates using active 'Session' data in the exact same d7II format and location, therefore if at any point during a session/repair/"Auto Mode" you encounter a bug with d7x, you can shut it down or discontinue usage after a crash (the point being, do not "End Session" from d7x) and simply run d7II.exe instead to finish the job, from the same folder as described here (it should pick up exactly where the d7x.exe left off, even if a stall/crash occurred in the middle of an "Auto Mode" or other customized d7II-based action.)
d7x will not change the way that it handles the existing d7II config settings/definitions system/operational files, and therefore much of the d7II code involving the handling of these files is still in use.  All .\Modules*.* files are still in use and expect everything to be the way it is with d7II.  These modules are the smaller programs existing as separate .exe files in the d7II\Modules subdir, which perform specific functionality outside of the main d7II.exe file.  Over time all d7II modules will be replaced as they are either integrated into the main d7x.exe, re-written entirely, or retro-fitted with d7x Platform code and moved elsewhere (e.g. inside the "\d7x Resources" subdir) to preserve at least a co-existence with d7II which should remain usable as a backup, until it is replaced entirely by d7x as a stable and official update.
Failures from a Tech Bench PC
d7x (including d7II) can fail to start or in other tasks when run from your own PC, or a "TBC" aka "Tech Bench Computer" even though it does not fail at those tasks on a customer's PC.
This can be an issue if your own PC is frequently used for d7x/d7II downloading/updating and configuring, especially when multiple copies of d7x and/or d7II are located and used from multiple locations on that PC, and the operator ignores the Session concept when switching between them (this can ultimately cause a lot of configuration headache, especially with the remote deploy tools.)
1.  If d7x isn't starting or performing, first try deleting the registry key:  HKLM\Software\Foolish IT\d7II
This key stores configuration and location information for the d7II/d7x files and paths that will be used by a running instance of d7x/d7II, and deleting it will remove all d7II session data from that PC (of course this is normally done as part of the End Session tasks.)
Note this will not always be the only source for session data as d7x<->d7II compatibility is phased out with the introduction of newer features.
 2.  If d7x still won't behave, then open the \Config dir where you are running d7x from, and ensure your computer name is not listed in the TechPCs.txt file (if it exists) and if so then remove it/save/retry with d7x.
Computer names stored in the TechPCs.txt file inform d7x (including d7II) to bypass certain startup tasks on those PCs (including any session start tasks, startup apps, or startup kill tasks.)
Note should always follow step 1 (deleting the registry key for session data) since it could be pointing to a different \Config dir than you think you are working with.
DO MORE - Setup, Configuration, and Usage
[Revision In Process]  Some information below was originally written for d7II, but also applies to d7x.  Some interface screen shots and other information may not apply to d7x.
Remote Usage:
Advanced Setup:
Advanced Configuration:
Integrations:
LEARN MORE - Functionality Reference for d7II/d7x (Original d7 Product Manual)
Original d7 Product Manual
[TO BE REVISED]  Currently intended as a functionality reference for d7II and d7x.  Written for the original d7 product line, most functionality descriptions and behavior will also apply to d7II and d7x.  Please be aware that interface screen shots and some behavioral information will not apply to d7II or d7x.  Additionally, a lot of technical information in the functionality descriptions will be lacking new content, as much has been added and improved since the original d7!
PC Repair Tracker Integration
FIND MORE - LINKS to ALL d7x Resources and Information
Newsletter, Blog, and RSS Feeds
Additional Subscriber Benefits (dMZ Private Access)
Release Notes and Known Issues
Below you will find the recent highlights, but all release build notes are available here.
v18.9.19
Fixes:
MSI files were not launching when configured in custom apps.
The end session "Close and Password Protect" and "Close and Delete…" options were switched.
Known Issues (TODO):
d7x not launching (must be launched manually) after config download when executed from d7xRDT.
v18.9.17 - Resizing d7x
Fixes:  Windows activation check ran twice at session start if configured to generate an info report at session start, and failed to determine when not activated on some Windows 10 systems.

Changes:  The main d7x user interface is now re-sizable, and is slightly smaller by default (to fit a 800×600 resolution, which it is still only slightly larger than this in width.)  A more minor change is that it also has added the same slight gradient background as the new KillEmAll interface.
The smaller interface now serves to replace the d7x "safe mode" interface which was smaller and re-sizable as well.  Consolidating both (separate) user interfaces into one will allow for faster and more consistent development as this single user interface is updated with d7x code and altered graphically as time progresses.
Because the d7x "safe mode" user interface also had the advantage of being lighter/faster due to removing the "System Info" tab and startup checks (some involving WMI which can slow down startup) "safe mode" functionality persists as an option in this update, and will not be removed, although the actual separate interface itself was removed.  The functionality now uses the main d7x interface but maintains the ability to skip startup checks from the "System Info" tab, which is also hidden from the user in this mode.  The custom logo and top info from the main interface remains however, but the status info is not functional (see pic) and currently the option to switch back to d7x "normal mode" is no longer a button, but is now under the same menu item as is getting to "safe mode" (see pic.)  Some of the non-functional top info will be added (likely the OS info and all that is covered in the pic below) but NOT the RAM utilization and the CPU/PageFile which are normally updated in intervals of seconds.

Additions:
d7x.cmd (During a previous update I believe this went unmentioned.)  Under Check for d7x Updates in d7x Config, a new button "Create d7x.cmd" exists which creates a batch file in the same directory as your "d7x vX.X.X.X.exe" file.  This batch file can be used to consistently start d7x with the same filename, for anyone scripting launch of d7x in some way.  During any update, when this batch file (of this name) is detected, d7x will update the batch file to start the new "d7x vX.X.X.X.exe" filename, therefore you won't need to change a thing.
Added all options from Work With File (except blacklist functionality) to the Examine Target shell extension installed by d7x (optional) including automatic signature checking on the examined file, checking hashes against the current blacklists if used (used/updated via Malware Search Tool 3000 and stored with your own definition files) as well as automatic VirusTotal.com queries for existing hashes and manual queries for items not already hashed by VirusTotal utilizing Sysinternals Sigcheck.exe (subject to it's query limit/4 per minute limitations.)  See pics.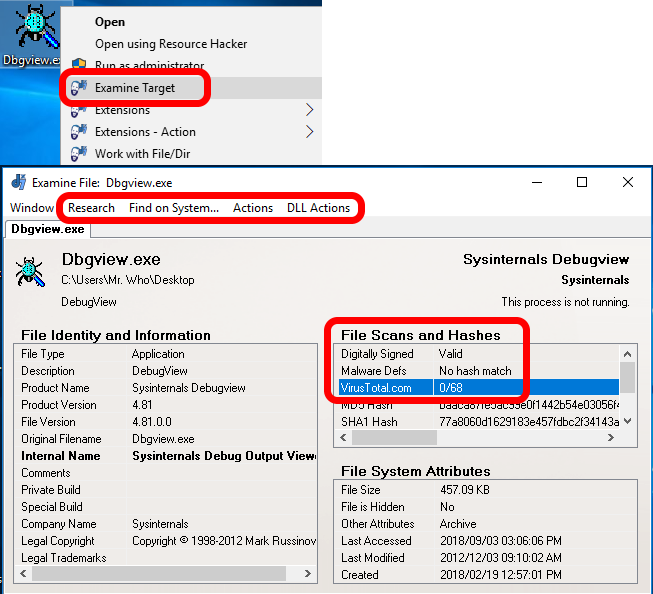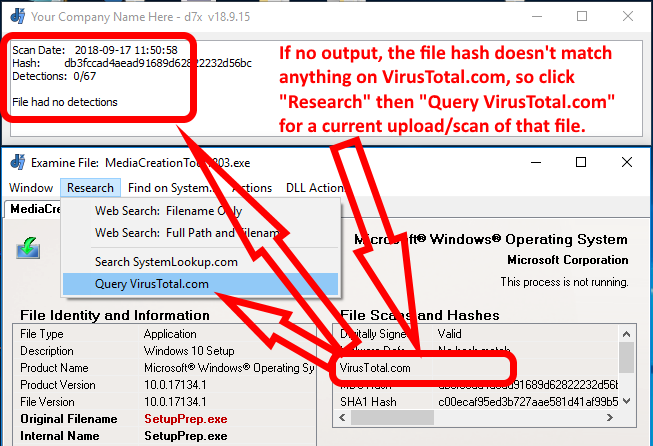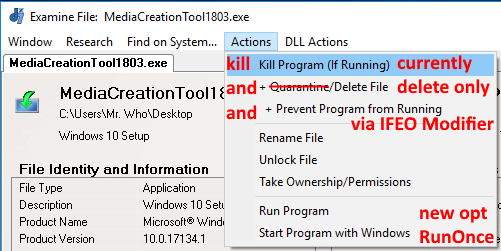 The new option for "Start Program with Windows" will prompt to add the program to either the Windows registry's HKLM "Run" key, or the second (new) option is to add to the "RunOnce" key instead.
Of course the "RunOnce" key runs the program once and removes the entry for subsequent restarts, however you may not know that "RunOnce" also launches programs in an administrator context and BEFORE Windows Explorer (explorer.exe) and many other user login related tasks, waiting for the program to terminate prior to loading Windows Explorer as the shell.
v18.9.7.1
Fixes:
FTP functions requiring the creation of /Nested/Paths/More than one/Level/Deep were failing.  This was notable with reports uploading functionality (entire dir, not zip) which was not creating all of the appropriate nested paths based on your settings from the Reports tab, and when failing to create the paths all reports were uploaded to the FTP root dir.  Fixed.
Debug submission upload to the server was failing (this did not affect the email submission); this was actually fixed in v18.9.1.0 last week.
Additions:
New menu options/functionality added to the dialog used by KillEmAll to examine individual files.  This dialog should also be added to Malware Search Tool 3000 in the next few releases.
The same dialog mentioned above was also added as the new "Examine Target" right-click context menu in Explorer, which when completed with all functionality will replace the older "Work with File/Dir" option that appears in the context menus.
v18.8.13.x
New:
Added Windows 10 build number to the OS display (e.g. Build 1803)
FTP over SSL is now available to Self-Hosted users, including both Implicit and Explicit SSL support.  (d7x Cloud users were transitioned to SSL a few releases back.)
New FTP setting "AutoFix" to ensure standard server settings/ports when using SSL.  Be sure to disable if using non-standard ports, especially with Implicit or Explicit SSL.
Changes/Fixes:
Newer d7x based FTP code has replaced ALL d7II based FTP code, even for non-SSL connections.
Reports uploading and related functionality is rewritten and 100% d7x code.  This fixed a bug where d7x (and d7II) were not uploading previous session reports from the same PC, but only uploaded the current session's reports.
Fixed a bug from this weekend's release where d7x did not think it was properly connected to dCloud, causing functionality failure in Config Mgmt Portal.  Note this weekend's issue did not affect Self-Hosted configurations.
v18.7.3x.x
For the most part, look for Self-Hosted FTP and Email/SMTP functionality changes, fixes, and improvements as they are switched to the new d7x code platform, with the exception of reports storage for FTP.  There was a bit more but it didn't make the list because I didn't write it down, and it was kinda minor because I can't recall at the moment…
What comes next is finishing the move to d7x code for FTP reports storage, which will allow us to enable the new SSL/AuthTLS functionality for FTP, which is already a functional piece of the d7x code platform.  Look for that soon!
d7x will update itself on next launch, and as always you can download manually from the d7x Manual.
Changes:
Password protected startup (if configured) should no longer prompt for password after updating config from Config Mgmt Portal.  (this previously occurred only if d7x was started via double-click or without command line arguments.)
FTP/Email settings are no longer saved in d7II format due to new features, but d7x will still import d7II legacy configurations.
FTP server settings are combined (meaning if you use the same server for both Config/Defs/Apps as well as Reports, they are now configured in one server slot and not two.)
For d7II usage, which again should only be necessary for "Offline" tab needs, please use in the .\d7IIv3 subdir only (do not use d7II.exe in the same dir as d7x.exe any longer, but you may use d7II in the d7IIv3 subdir of d7x; NOTE this will maintain a separate .\Config directory and contents.)
The Technician Password prompt (used with various functionality) now accepts your d7x Subscriber Account password.   NOTE this cannot be used for extracting configs from the Config Mgmt Portal (or d7xRDT) when encrypted with the technician password.
When you specify an incorrect Technician Password for configs downloaded from Config Mgmt Portal (or d7xRDT) you are prompted as such and given the opportunity to try extraction with a new password.
The above feature of prompting for password extraction now applies to all compressed archives provided that Auto Mode is not in process.  NOTE that actual support for password protected archives will be added to the custom apps system at a later time; at this time your tech and account passwords will be tried should any existing archive fail to extract with a password error.
New subscribers should no longer need to wait for manual setup/activation of their account, and will only need the d7x Account Credentials emailed automatically after purchase; d7x will automatically download the user license (this does not apply to existing subscriber accounts.)
The Dirty Volume check has been bypassed when forcing a reboot from within d7x.
Fixes:
The test email button in d7x Config is working again!  🙂
Some email settings failed to send under some cirumstances (fixed.)
Some self-hosted FTP operations may fail with the previous release (fixed.)
Right-Click menu options installed in Windows Explorer (e.g. Work with File, Run with Parameters, etc.) were not pointing at the correct file when started (fixed.)
Splash screen remained behind a few times when it shouldn't have (fixed.)
Fixes in v18.7.31.1
Fixed system restore reporting disabled when it wasn't.
Fixed prompt that (when enabled) showed that new definitions were found on the server when no defs were ever uploaded.
New Features and Improvements:  
New in v18.7.31.1:  DataGrab now automatically backs up the \System32\DriverStore\FileRepository
New SMTP server settings:  "AutoFix" can connect some server misconfigurations, and "Authentication Method" now allows new methods NTLM, Plain, CRAM-MD5, and an Auto selection feature (previously it only supported Login/Basic.)
New Email and FTP connection error messages are detailed, no more guessing when testing a config…  Additionally the Email failures offer a full log option.  See pics below!
New FTP configuration interface (not all will be adapted, but more areas in d7x config will be adapted to this interface soon to save screen real estate and lessen confusion for certain groups of settings.)
Due to combined FTP server settings (see changes) you can now configure up to 3 additional FTP server addresses; regardless d7x will only use ONE server for each operation type (either Config/Defs/Apps or Reports.)  This builds on the existing feature to configure alternate server addresses when your local DNS isn't setup to use your external server's hostname, or you use IP addresses (e.g. WAN can connect to ftp.somewhere.com  whereas LAN can connect to 192.168.1.3 or similar.)
Also building on the previous feature, ALL operations now adhere to the standard that should one FTP server address fail to connect, d7x will attempt to connect to the next one in the list (which is configured for that operation type.)
FTP servers no longer need to be ping-able when alternate servers are configured; a full connection/login attempt is now performed to determine which server address is used for connection, but is significantly faster than previously (provided that a server is on the other end to accept or reject the request, or if the DNS hostname cannot be found.)
Known Issues
None are known at this time.
Functionality Issues (Other)
d7x generated sessions are no longer backwards compatible with d7II.exe in any version released after v18.9.7.1 (this backwards compatibility was previously maintained for d7II to pick up where d7x left off in the event of a crash, however there has been no need for this behavior since the earliest TestBuild releases.)
Update Failure:  d7x v18.7.4.x may not update due to an authentication failure, but regardless it will attempt to do so upon seeing a required update.  To resolve, simply replace the main exe with the current one which can be downloaded in the d7x Manual at the top of the page.
Update Failure:  d7x v18.2.3.0 [TestBuild] and all previous versions will no longer self-update or recognize update availability.  The issue also causes failure when launching any d7xRDT packages created with this and previous versions of d7x.  See this post for details.  
The Check for Updates option on the Main menu may appear to do nothing (though it does actually check for updates.)  Upon finding an update, it may fail to prompt you to actually perform the update, or update if prompted, however it should automatically update upon restarting d7x.  There is still currently no option to avoid updating once an update is found.
Offline tab functionality (other than Malware Search Tool/dFunk) has been removed entirely pending a rewrite, and will be re-introduced in a future update as separated from the current main interface.  The visible Offline tab remains in the current build but functions as described below.
Offline mode functionality is used in working with OSes on partitions other than the active/system partition, e.g. from 'Tech Bench' PCs or WinPE boot disks.
Please continue to use d7II.exe for all Offline related functionality.  With each new launch/instance of d7x, on every first click of the Offline tab you will be prompted to run d7II instead (from d7x\d7IIv3) which will download as necessary.
NOTE:  Malware Search Tool 3000 (aka dFunk) is NOT affected, so it can be launched via d7x itself without issue.
Configuration Settings and Defaults (Minor)
FTP and Email settings are no longer backwards compatible with d7II when configured from d7x.  This is due to new features added in both areas of functionality, and a new configuration storage format was added to complement the current and future new settings and expanded functionality.  Regardless, d7II should only be used specifically for Offline functionality as noted above.
User Interface (Minor/Cosmetic)
Issue:  Several child windows in d7x (e.g. the internal KillEmAll) may fail to display your customized icon in the top left corner (meaning the 16×16 pixel ICO, not the larger BMP logos…) even though it appears in the main and most other d7x windows.
Notice:  Although the "Installed Date" value on the System Info tab is reported correctly in Windows 10, the value itself is now modified during every major Windows 10 update.  We are investigating other methods to obtain the original installation date, and plan to update the interface accordingly (with this field reflecting the last major update on Windows 10.)
d7x lower status bar may not return to "Idle…" status after performing certain actions (the last status message remaining on the screen.)
d7x lower status bar may report "Idle…" when busy (or an idle/display message) during an Auto Mode.  Specifically, Malware Auto Mode configurations using KillEmAll settings/options at the top can trigger this behavior, though it may also be caused by various other reasons in any Auto Mode.
Subsequently, clicking anywhere within a d7x based user interface will trigger the "Not Responding…" Windows message.  In this case, d7x isn't updating the user interface appropriately, which causes both the status bar "Idle…" message as well as the Windows/app unresponsive behavior when the user initiates any type of interaction with one of d7x's windows.
Please be assured that d7x is most likely doing what it should be, and therefore d7x should be left undisturbed for a reasonable amount of time (even in a state where the user interface is unresponsive) based on the last action performed or desired, in order to determine if there is any issue (beyond the broken UI status update.)
d7x Server Connectivity
In current versions of d7x, detailed error messages exist to inform you of the reason for the failure (e.g. DNS lookup failure, connection rejected due to invalid credentials, IP banned for too many invalid login attempts, subscription expired, etc. etc.)  
As for other connectivity issues, d7x requires access to several servers which could be restricted by a software or hardware firewall/NAT router or a UTM appliance.
d7x software will not activate your purchased license.  An already activated copy of d7x can exhibit other behaviors as described below.
d7x may fail to report or downloaded updated versions of it's own software binaries, as well as default custom apps profile updates.
d7x may fail with various functionality related to the Config Mgmt Portal, which stores your d7x configurations and custom definition files.
d7x may fail to submit debug reports to the server when using capture mode to submit a bug report (however the option to request a response via email will still succeed to submit the information, as well as create a ticket in our support queue.)
d7xRDT (the d7x "Remote Deployment Tool") cannot populate your configuration list when run, cannot download the d7x core files (complete failure), or cannot download your configurations (if the core download was successful but not the configurations, it may prompt for registration when starting d7x.)
To test connectivity in a browser, try opening these addresses:
https://d7x.d7xtech.com/ (SSL) or http://d7x.d7xtech.com/ (Non-SSL) For these tests, when successful you should see a custom error page offering to return you to d7xTech.com
ftp://xcloud.d7x.app:32767/ or ftp://xcloud.d7x.app/  For the ftp:// based tests, when successful you should receive a login prompt (it is unnecessary to attempt login.)
Both of the above methods are used for various communications, so both must be available.  With both HTTP and FTP protocols, d7x now defaults to an SSL connection, however should d7x fail to connect over SSL, it will also try non-SSL connections as well.
d7x connectivity uses not only HTTP/HTTPS, but also Passive FTP/FTPS to access different servers for different purposes.  In Passive FTP, the client uses a standard port as a "control channel" to initiate communication with the server, which then responds with a randomly selected port in the upper range (we configure for 49000-54000) allowing the client to initiate a new outgoing TCP connection with the server from this port for data transfers. This works well in most cases, because firewalls typically do not block outgoing TCP connections.
Troubleshooting an FTP issue can be as simple as consulting your model's documentation, or better yet, search the internet for issues using the model number with 'FTP' and look for keywords like 'problem' or 'issue' and similar.
Where Problems Can Occur:
In some cases a "smart" NAT router can block FTP over SSL (Implicit or Explicit) or any tightly locked down system can block all Passive FTP traffic when configured to block outgoing TCP connections by default.  Similar issues can occur with some SPI firewalls due to default internal logic, but this should be very rare.
Some "smart" NAT/firewalls attempt to detect the FTP control messages sent by the server in order to dynamically open data ports based on the PASV response, however this fails with SSL traffic and ports will never be opened to outgoing traffic.  In such a case the data port is not reachable, however d7x will attempt to reestablish a connection using non-secure communication (which we believe is acceptable, because your configuration data is also AES-256 encrypted at the file-level with the "Technician Password" you created during first-time setup of d7x.)
Unfortunately a NAT/firewall can still block insecure Passive mode FTP traffic under certain configurations.  There are at least two models of Sonicwall routers that include a setting to "Block FTP Bounce Attacks" which is enabled by default, and will block all Passive FTP traffic. We cannot confirm but there may have been a model of Cisco router that shipped with a similar setting enabled by default.  Fortunately, these older models are less common to find, and other similar configurations are also less likely since Passive mode FTP usage became widespread years ago due to the common usage of firewalls which block the incoming TCP connections required by Active mode FTP.
OS Requirements
d7x (and d7II Final) require Windows XP SP2, and SP3 is recommended for all functionality.  
Full support for Windows XP up to SP1x is not planned, however should you find yourself repairing XP without SP2/3, then d7II v3.6.4 is still available and is more than competent for the job!  Simply download to your existing d7II/d7x folder and launch as normal, or place it in a separate folder with a full copy of your d7II\Config folder before launch.  This version may also be compatible with Windows 2000 (if the d7II.exe doesn't restrict itself after an OS version check) but it's been a long time since we targeted that platform, so we do not support it.
All dependencies are already included in the portable d7x folder after it's first run (downloaded on demand during the first launch, or if ever found missing) and all files can be copied to any other system along with d7x, as with any other portable application.
 * NOTE:  The .NET Framework is NOT required in any  form, as it has historically proven very prone to disaster (one of d7/d7II's many uses in the past was busted .NET repair for apps that wouldn't launch.)   After 15+ years of .NET it finally seems stable enough to not self-destruct, however in the future we also expect to see newer malware target .NET and other newer OS technologies as more and more applications (e.g. Anti-Virus/Malware companies) trust and rely on it for easier development of the "modern" graphical user interfaces.
Submitting a New d7x Issue/Bug Report
We encourage you to submit new issues/bug reports for unique issues, asking that you first confirm it is not recognized in the "Current Limitations" or "Known Issues" located under the Release Notes section of the d7x Manual, or that you have new information on an existing issue represented in those sections.
We also ask that you separate submissions for issues that aren't related to one another.  Determining single vs. multiple issues is not always clear, so please use your best judgement while keeping in mind the specifics of the environment, time frame, and order in which these issues occurred.
In-App Submissions
When possible, please submit reproducible issues directly from d7x via the 'Main' menu > 'Create/Submit Bug Report' option, which will include structured and detailed debug information about the error.
Here is a quick video on the process.
To request a response via email, you must:
1.  Use a valid email address when requesting a response.
2.  Configure d7x to use your SMTP server (required to send any email from d7x.)
* We no longer provide a built-in SMTP server, as done in early versions of d7II and d7 with dCloud; the functionality was removed due to recurring issues with security/spam filtering in use at the email host/ISP level.
Web Submissions
Use the form below when the problem cannot be reproduced, or involves a d7x crash, restart, or a Windows restart (these issues cannot be submitted via in-app submission methods.)
Although we realize we are asking a great deal of detail on your part, the information accuracy even to the smallest detail is often vital to solving issues efficiently by reducing communication time with support staff.
NEW: d7x "Single Pay" purchase option – buy once use forever!
d7xTech Show
Join us for live tech chat, product questions, support, and technical training right here!
Customer or not, you are welcome to drop in and discuss anything 'tech' with us!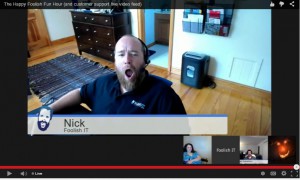 Subscribe to Blog via Email
Categories