Aside from CryptoPrevent, many of these tools are intended for users who are somewhat experienced with Windows programs and usage, as they may include little or no documentation, and do not include any support.
Advanced users and PC Technicians may be interested in our Free Tech Tools page!
If there are any issues expanding the FAQ questions click here for the single page version.

CryptoPrevent is a robust anti-virus/anti-malware software supplement, filling a huge gap that exists with traditional security solutions to provide protection against a growing multitude of new and emerging ransomware and other malicious software threats.
CryptoPrevent is designed to peacefully co-exist alongside existing solutions, create no detectable impact in normal system performance, demand no time for maintenance, nor requiring any specialized user knowledge for usage.
Newer Features in CryptoPrevent v8 and above:
New:  Folder Watch – Monitors and protects common folders from items that match malware definitions.
New:  Submit Malicious Files – This will allow you to submit malicious files (which are not in our malware definitions) to review for inclusion in the default definitions.
Improved:  Program Filtering Protection – The original 'BETA' program filtering protections were very effective, but caused issues with running certain programs; now it offers vastly improved reliability as it is based on the new code platform of the coming 3rd generation 'd7x' PC technician utilities, it is thoroughly tested, and recommended for mass usage!
Improved:  SRP Protection – The original protection method since CryptoPrevent version 1 was automatically created "SRP" rules (aka "Software Restriction Policies" which are normally only available in "Professional" editions of the Windows operating system and only scriptable across Active Directory/domain environments.)  CryptoPrevent v1 created 8 SRP rules for protection and v7.4.21 (the final v7) created just under 400 SRP rules, while version 8.0 currently creates just under 4000!   That's 10x as many as v7 and 500x as many as v1!
New/Improved:  Expanded Malware Definitions (Optional) – Expanded malware and ransomware detection definitions add cutting edge detection power to CryptoPrevent, and are updated at least weekly, although they may increase the risk of 'false positive' malware detections.  (These are entirely optional; you may elect to keep the standard definition set with less risk of 'false positive' detections.)
v5.0.0.12 open 'BETA' released Oct 8th, 2016
KillEmAll terminates every (currently running) program on your computer except essential Windows processes, and allows for inspection of running and/or terminated processes.
Redesigned and rewritten project from the ground up, based on the concept of the original KillEmAll software.
The first component based on entirely new code for the upcoming d7x software (the next generation of our flagship d7II PC Technician Productivity Software.)
Future versions will build on functionality for end users/consumers and IT Pros/MSPs/PC Repair businesses alike with free, premium, and technician versions that include partial d7x functionality.
v2.0.1.5, updated Dec 14, 2016
A utility to quickly display the MD5, SHA1, SHA256, SHA384, SHA512 and SHA3 hashes of any selected file, and optionally compare the hashes with any hash string.  Drag and Drop support!
v4.1, updated Dec 31st, 2015
A no-hassle utility to restart Windows in the Safe Mode of your choice.  Windows 'Safe Modes' are designed to start Windows with minimal functionality and no additional running software.  This can be very useful in troubleshooting, repair, and malware removal scenarios (but is NOT designed or recommended for general usage!)
Utilities to prevent three things:  Screen Saver, Sleep Modes, System Shutdown/Restart.
v1 is a portable application requiring no installation
v2 requires a quick and painless installation, but extends functionality to perform custom configurable actions when a shutdown/restart is initiated and prevented
Here you will find a few small "quick n' dirty" projects that don't really deserve their own web page, currently including UninstallAV, QuickSystemRestore, AutoCleanMgr, and LaunchDeviceManager.  The last two projects detail the internal workings of the functionality.
NEW:  d7x now includes 25 resell-able licenses of CryptoPrevent White-Label for each year purchased!
d7xTech Show
Join us for live tech chat, product questions, support, and technical training right here!
Customer or not, you are welcome to drop in and discuss anything 'tech' with us!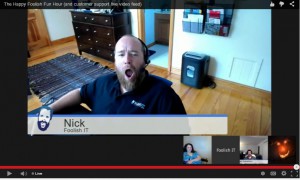 Subscribe to Blog via Email
Categories