Thank You for Subscribing!
The latest versions can always be downloaded from the d7x Manual.
Look for these emails after purchase:
1.  Sent automatically after purchase, the email "d7x Subscription Created" from "d7xTech Sales Team" contains an invoice/receipt for your purchase.
2.  Also sent automatically after purchase, the email "d7x Subscription Account Credentials" from "d7xTech Product Team" contains account credentials for both your d7x Account (used to activate the software) and access to the dMZ, a protected area of this website with additional content and downloads for d7x (more on this below.)  IF YOU DID NOT PROVIDE A COMPANY NAME during purchase, your account will NOT be active.  Please contact us ASAP with your company name and we can manually create your license and enable the account.
Typically the account setup occurs with all emails dispatched within 5 minutes from the time of purchase.
* Please note that all emails will originate from @d7xtech.com, so please ensure emails coming from this domain are not blocked by any spam filtering on your account!  
You can email us here or call +1 (844) 311-3665 for any clarifications.
Returning Subscribers ONLY:
You can activate your new account through the d7x software by using the new d7x account credentials, which will arrive in your welcome email.  You may re-configure an existing copy of d7x (without losing your existing configuration) by going to Config > Admin and selecting the "d7x Account Credentials" button on the top left.  Your existing product license does not need to be changed.
Please contact us if you wish to have your d7x account modified to activate your previous account credentials, in order to use these instead of using the new credentials from your welcome email, which will allow access to existing configurations/definitions that may be stored on our servers if you do not have these stored locally for usage with your new credentials.  Please be patient, it may take some time for us to respond to these requests.
d7x Subscription Account Credentials (Email):
The email "d7x Subscription Account Credentials" from "d7xTech Product Team" is automatically sent after purchase, and contains account credentials for your d7x Account (used to activate the software.)
PLEASE NOTE:  The software is required to reflect your company name in the title bar of the application, and the name is tied to your product/activation key.  The company name cannot be modified after account creation without additional charges; contact us for more information.  IF YOU DID NOT PROVIDE A COMPANY NAME or would like a different company name in the title bar of the software, please reply to this email immediately with your requested company name, so we can generate the appropriate product key.  Note that if your company name was not provided your account will not be enabled automatically, and we will need to manually create your license file and enable the account.
These credentials are used for d7x software activation and other back-end communications with the "dCloud" server.  ATTENTION OWNERS/MANAGERS:  These d7x Account credentials should NOT be shared with employees (in the event of their termination.) These credentials cannot currently be changed after creation, and they control access to your d7x subscription.  Once the software is successfully activated, the account password is no longer necessary for usage (simply copy the activated software; employees won't need the credentials) although the username is necessary if/when communicating with our support team.
NOTE:  During initial software setup you will be asked to create a separate "Technician Password" of your own choosing (used for encrypting your config, as well as for employees to use with certain product functionality.) We do not have access to this password and we do not store it, so do NOT forget it or you will be locked out of your encrypted config on the server.  More information on the Technician Password is available in the d7x Manual.
Before you dive into d7x:
Don't forget to login to the dMZ area of our website below, then you can:
Watch the 'New User Guide' videos to learn more about setting up d7x!
Visit the d7x Manual for downloads and other instructions and information.
Visit our Tech Directory signup page to get your business listed in a public searchable database, normally promoted to CryptoPrevent users and anyone visiting our high traffic website.  Do you resell CryptoPrevent, or provide remote support? These items are displayed in the public database along with your contact information. Participation is restricted to active d7x subscribers, and is entirely OPT-IN (in no way will any of your information ever be made public without your express consent or direct action.)
NEW:  d7x now includes 25 resell-able licenses of CryptoPrevent White-Label for each year purchased!
d7xTech Show
Join us for live tech chat, product questions, support, and technical training right here!
Customer or not, you are welcome to drop in and discuss anything 'tech' with us!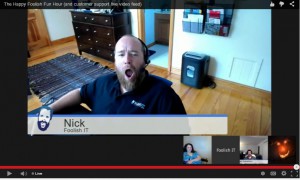 Subscribe to Blog via Email