Current version:  1.0.0.1  Released May 19th, 2021 (fixed a bug with launching processes in general d7x code as explained here.)
RunX is designed to easily launch any process with System account or TrustedInstaller account privileges, in order to bypass file system and registry permissions.  It is also designed to optionally pass command line arguments to that app without having to open an administrative console window and navigate to the appropriate path first, and can capture/display the app's exit code.  Usage is simple, just drag and drop an executable onto RunX.exe, or launch it normally and browse/type in the path to an executable.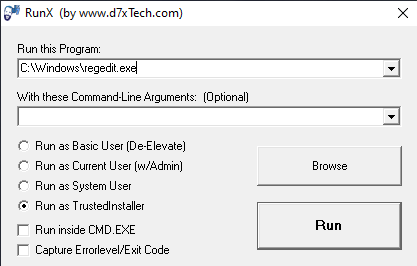 RunXcmd is included and designed to do the above but for scripting purposes, when you need your script to wait on the process you are running to terminate, and/or when you or your script needs to know the process exit code via %errorlevel% output.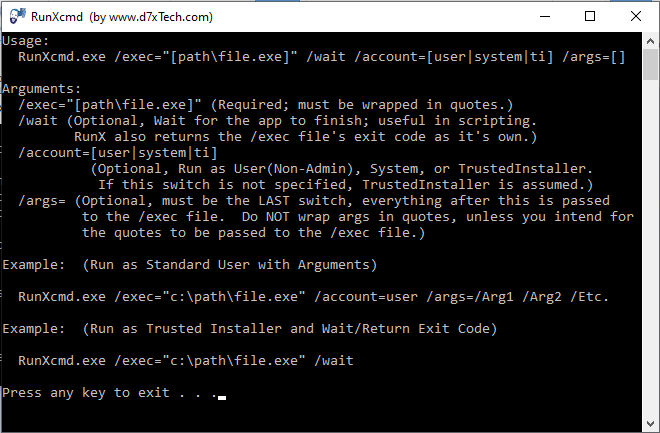 Either RunX or RunXcmd (depending on your needs) is a suitable replacement for ETS (Elevate To System), which is an older and slower implementation with some limitations that RunX does not have, such as not being able to run from a network drive, in addition to not having the capability of creating processes with TrustedInstaller privileges.
Compatibility and Operability:
RunX and RunXcmd both work on all versions of Windows.
RunX and RunXcmd are both stand-alone and fully portable applications, which can be run from anywhere, independent of each other and without any external dependencies.
License:
RunX and RunXcmd are both FREE to use for personal and commercial purposes.
Developers are free to use and distribute RunX or RunXcmd with their applications, provided credit is given to d7xTech, Inc. within the application help/about documentation and on the application website.
Donate!
We're glad you wish to make a donation to our team, and even more so that whatever we've done for you was worth it!
Thank you for supporting our team, from the entire crew at d7xTech, Inc!
Tip Jar - Donation to d7xTech, Inc
Specify your tip amount in the Your Price field below!
($5 minimum - do not use a $ in the price field!)
Downloaded 5356 times
Interested in Anti-Malware?
CryptoPrevent Anti-Malware is a robust anti-virus/anti-malware software supplement, filling a huge gap that exists with traditional security solutions to provide protection against a growing multitude of new and emerging ransomware and other malicious software threats.
Are you a PC Technician?
Check out Tweaky, a more advanced system tweak tool designed for PC technicians.
Want more tech tools?  Check out our flagship d7x PC Technician Productivity Tool, which is designed specifically for you!  d7x:  Automate, Relax, Get Paid!
Subscribe to Blog via Email