KillEmAll v5 (built on d7x technology)
Currently in open BETA testing, download and known issues listed below.
KillEmAll is a 'panic' button with an 'ask questions later' attitude, designed to neutralize, terminate, and later identify all non-essential running programs.
Great for quickly closing unwanted apps, system inspection, (and with new editions on the way) even malware removal!
KillEmAll is free for both personal and commercial usage.
The Nutshell:
Specifically KillEmAll terminates every (currently running) program on your computer except essential Windows processes.
The best usage case for KillEmAll to most users, is to close all open web browser windows if you get a suspected malicious popup while visiting a website.

The the reason you don't simply close or "X out" the popup is because malicious code can be run even if you click the X button — it is after all just another button, you might as well be clicking "OK" or "Yes, please do what you want with my PC…" but if you don't click anything and KillEmAll does the work, forcing the application's process to close without any additional code execution.

Other more mundane tasks include the advantage of quickly closing all applications before performing maintenance on your PC, general troubleshooting, or playing resource intensive games.
Obviously, any data used by the applications being closed, if not previously saved, will be lost!
New Features Planned:
Prevent selected programs from running
Uninstall programs
Schedule automated tasks
Disable automatic updating on every startup
Restore previous window positions on startup
Some other exciting stuff we don't want to build up too much 😉
Help Pages:
Current BETA:  v5.0.12 (Released Oct 8th, 2016)
v5.0.12 – Fixed issue where app may not start with an "invalid side-by-side configuration" error on Windows XP.
There are still a few quirks we're trying to work out, but we feel it's complete enough to ask for the community's input and testing on!  Please review the known issues which Nick is currently aware of, and feel free to contact us and let us know if there are any other items you come across not listed here!
If you have any issues or ideas please use our contact form here.  Thanks for taking the time to test this release and help us work out any issues prior to the full v5.0 release!
Current Known Issues:
Some programs may fail to terminate under certain circumstances, or may restart instantly, particularly Anti-Virus and some other Malware prevention programs.
Some programs will be terminated, however the 'result' and/or terminated/failed counters may be inaccurate.
The 'Restart Program' option in the right-click menu for a process may fail to restart the process after killing it under certain circumstances.
Items may not size/position themselves as expected when manipulating the program's resizable windows.
(Windows XP/2003 Only) When terminating a process, 1 MiB or more may be leaked from each of the target's threads that are terminated. The NT kernel in 5.2 and below does not free the thread's initial stack, causing the resource leak. We are considering a fix for a future version, despite the age of these operating systems which does make it less of a priority.
(Windows 10 Only) When run the display of text in various apps will become corrupted or invisible.  See this post or expand the box below for the resolution.
Windows 10: Corrupted Display of Text in Various Apps (FIX INSIDE)
KillEmAll v5 and Windows 10 ruins display of text in various apps (FIX)
KillEmAll v5 was released without the internal logic required to avoid terminating a critical Windows system file "fontdrvhost.exe" which is in part responsible for the rendering of text based graphics displayed in various areas of many programs running on Windows 10.
Problem:  When terminated by KillEmAll, you will notice corrupted display of text, or no display of text, in all affected programs.  Text is displayed properly again only after restarting Windows.
Note for PC technicians using d7x:  The KillEmAll v5 version internal to d7x does NOT terminate fontdrvhost.exe, as it's updated code base has the internal logic required to avoid termination of this program, as well as several others related to functionality used in the Windows tablet PC mode.
Fix:  Add the "fontdrvhost.exe" program to your 'Allowed Programs' list in KillEmAll v5.  You will actually add "<s>\fontdrvhost.exe" (no quotes) which will tell KillEmAll to only allow the program if it is running from the proper location in Windows (this ensures malicious software running under the same name in a different location is not allowed to run.)  See the guide below to learn how.
To begin, you MUST see this prompt when you start KillEmAll: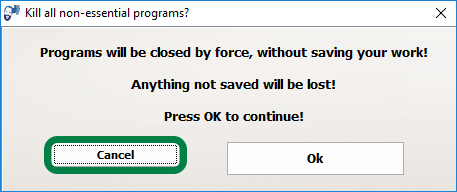 IF you do not see the above when starting KillEmAll, you have enabled the Fast Startup option which terminates programs instantly when KillEmAll is started.  You may be able to see and uncheck this from the 'Options' tab in KillEmAll (you do not need to click a 'save' button), or you may not be able to see it.  This is the first of  the 2 selectable options on the left of that tab.  If you cannot see the checkbox to uncheck it, then you can disable this easily by deleting the configuration file for KillEmAll.  See the last two graphics under "Delete Config" below only IF you need to do this prior to starting KillEmAll.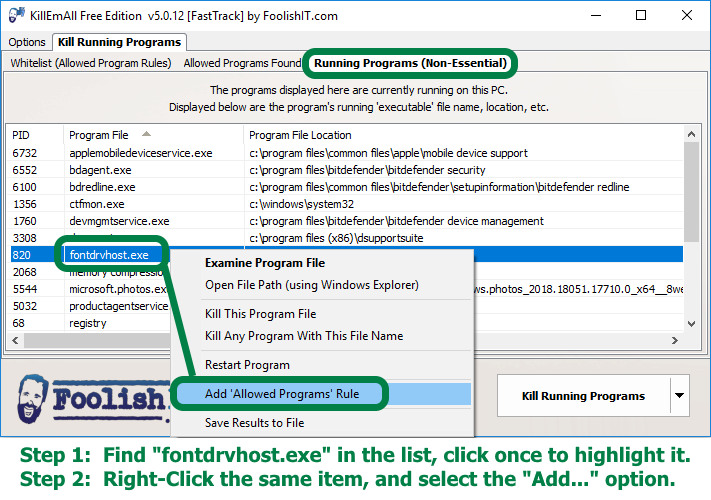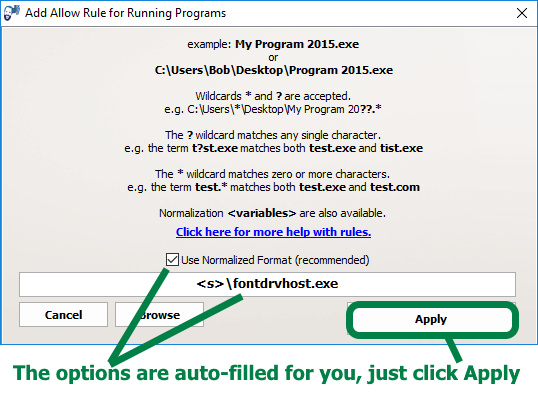 When completed, you should now have this text on the 'Allowed Programs' tab (see below, it is not necessary to Save the list if this method worked for you.)
If you didn't see the '"fontdrvhost.exe" file in the list of running programs, then you can add the same text manually to the box on the 'Allow Programs' tab (again, see below.)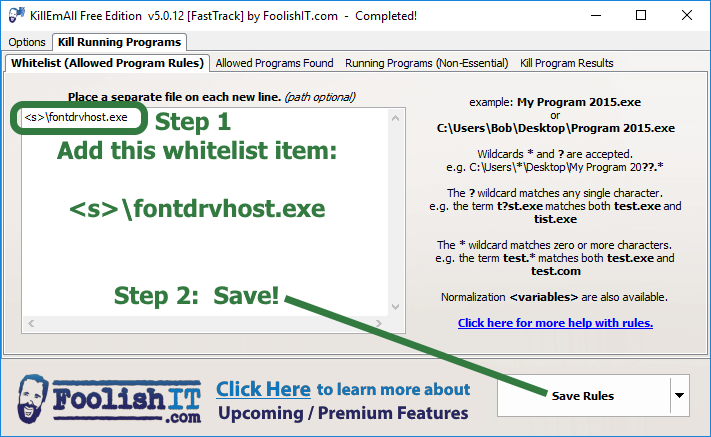 Delete Config (Optional):
This is only necessary if you couldn't perform the steps above due to KillEmAll's 'Fast Startup' option being enabled.  Once the config is deleted, you can start KillEmAll without terminating the "fontdrvhost.exe" file and preventing the text from being displayed.
Note the config only contains the two options from the options tab in KillEmAll, and does NOT contain any program "definitions" for your 'Allowed Programs' list.  To clarify, if you already have items in your 'Allowed Programs' list, they will not be affected by deleting the config file below.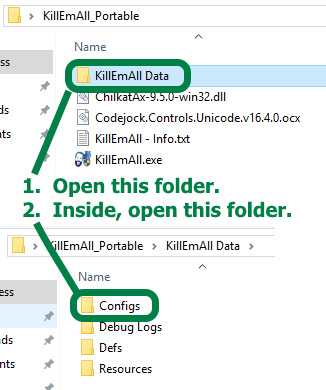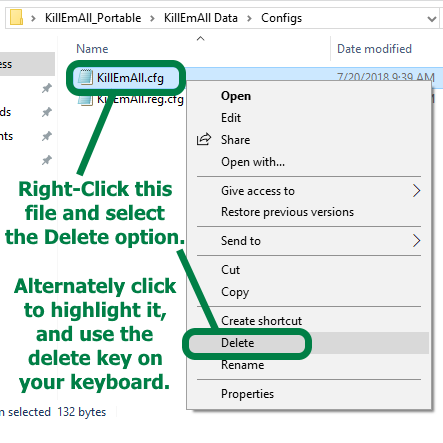 Download Public Beta Release Here:
Downloaded 19842 times
---
License for all versions of KillEmAll
KillEmAll is
FREE
for both personal and commercial usage.
NEW:  d7x now includes 25 resell-able licenses of CryptoPrevent White-Label for each year purchased!
d7xTech Show
Join us for live tech chat, product questions, support, and technical training right here!
Customer or not, you are welcome to drop in and discuss anything 'tech' with us!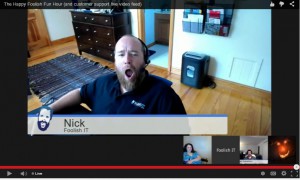 Subscribe to Blog via Email
Categories