Prevent any program from running!  No frills.  Supports all versions of Windows!
v2.0:  Added support to block programs from the internet only (via the Windows Firewall)
v2.0.1:  Fixed Program Blocker incorrectly showing entries made by Program Switcher, because both programs take advantage of the same Windows mechanism to function.
Program Blocker is FREE for all personal and commercial usage.
Donate!
We're glad you wish to make a donation to our team, and even more so that whatever we've done for you was worth it!
Thank you for supporting our team, from the entire crew at d7xTech, Inc!
Tip Jar - Donation to d7xTech, Inc
Specify your tip amount in the Your Price field below!
($5 minimum - do not use a $ in the price field!)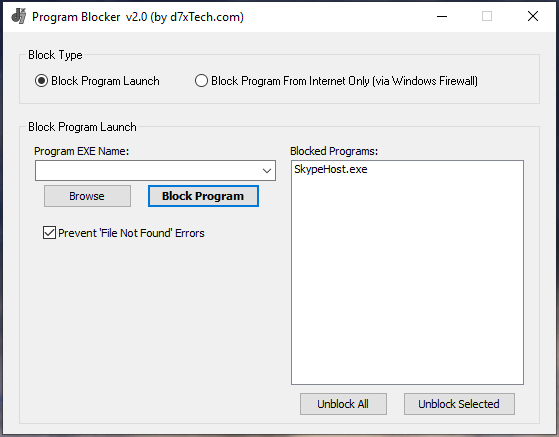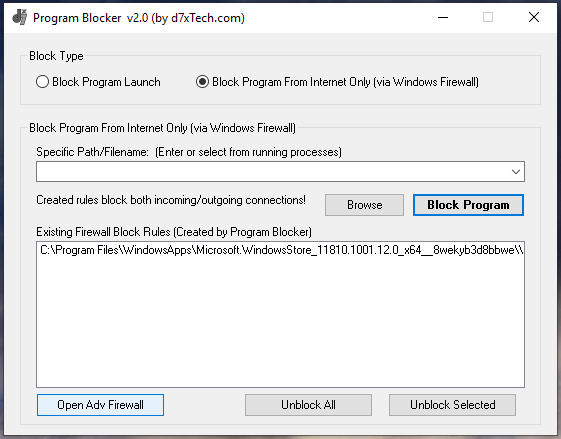 Interested in Anti-Malware?
CryptoPrevent Anti-Malware is a robust anti-virus/anti-malware software supplement, filling a huge gap that exists with traditional security solutions to provide protection against a growing multitude of new and emerging ransomware and other malicious software threats.
Are you a PC Technician?
Check out Tweaky, a more advanced system tweak tool designed for PC technicians.
Want more tech tools?  Check out our flagship d7x PC Technician Productivity Tool, which is designed specifically for you!  d7x:  Automate, Relax, Get Paid!
Subscribe to Blog via Email