Switch one program with another!
For example, anytime you perform any action that would normally start Microsoft Paint, you can switch this program with Paint.NET, so that it starts instead!
Another working example is switching Microsoft's Notepad with Notepad++ if you prefer that app to the standard Notepad included in Windows.
The above examples make it incredibly useful after major Windows 10 updates which reset file associations back to defaults; with Program Switcher you can always force your preferred program to run instead of Microsoft's default program!
Compatible with ALL versions of Windows!
Caveats:  Program Switcher will show entries made by Program Blocker, because both programs take advantage of the same Windows mechanism to function.
Limitations: Some Windows Store applications (UWP based apps, e.g. Video.UI.exe) cannot be switched with a standard application.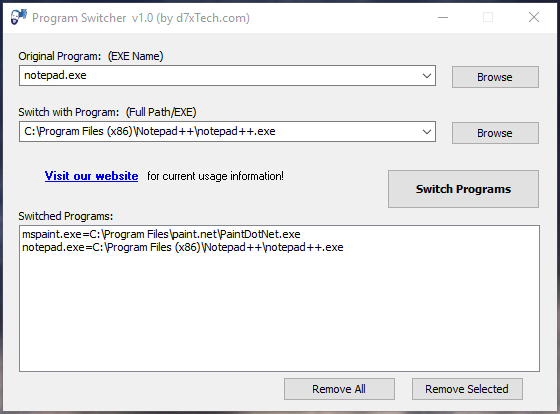 Program Switcher is FREE for all personal and commercial usage.
Donate!
We're glad you wish to make a donation to our team, and even more so that whatever we've done for you was worth it!
Thank you for supporting our team, from the entire crew at d7xTech, Inc!
Tip Jar - Donation to d7xTech, Inc
Specify your tip amount in the Your Price field below!
($5 minimum - do not use a $ in the price field!)
Subscribe to Blog via Email