KillEmAll Mini is a 'panic' button with an 'ask questions later' attitude, designed to identify and terminate all non-essential running programs.  Great for quickly closing unwanted apps, system inspection, and even malware removal!
Why Use It
The best usage case for KillEmAll Mini to most users is to close all open web browser windows if you get a suspected malicious popup while visiting a website.  The the reason you don't simply close or "X out" the popup is because malicious code can be run even if you click the X button — it is after all just another button, you might as well be clicking "OK" or "Yes, please do what you want with my PC…" but if you don't click anything and KillEmAll does the work, forcing the application's process to close without any additional code execution.
Other more mundane tasks include the advantage of quickly closing all applications:

before performing maintenance on your PC,
general troubleshooting,
or playing resource intensive games.
General Usage
Simply run the .exe and it terminates unnecessary programs running under any standard user account.  If your Windows is configured with UAC enabled (default) then you can right-click and choose Run as Administrator to kill all other programs running under an Administrator/System account.
If started via Windows Explorer, KillEmAll Mini will display a 'press any key to exit' prompt when completed, giving you the option to press 'L' to generate a log file.  When started from a console window you will not see this prompt.
Hold down the CTRL key while starting KillEmAll Mini to start in DEBUG mode, allowing you to terminate each process one by one, optionally skipping termination of certain processes, and (with v21.1.4 or later) optionally allowing you to 'Google' each file to terminate.
Hold down the SHIFT key while starting KillEmAll Mini as Administrator to automatically run under the TrustedInstaller account, bypassing the security permissions of other processes.
Obviously, any data used by the applications being closed, if not previously saved, will be lost!
Scripting Usage
Run "KillEmAll Mini.exe /?" from a console window to see current command line arguments for scripting purposes.
Run "KillEmAll Mini.exe /auto" to ensure KillEmAll Mini runs automatically without prompting the user.
Run "KillEmAll Mini.exe /log[=file]" to run automatically without prompting and log to a file.

ex. KillEmAll Mini.exe /log  (this will create a file named "KillEmAll_Log.txt" in the current directory.)
Optionally specify a filename or a full path and filename; if path or filename contains spaces you must wrap in quotes:

ex. KillEmAll Mini.exe /log=log.txt
ex. KillEmAll Mini.exe /log="some log.txt"
ex. KillEmAll Mini.exe /log="c:\some path\some log.txt"

Run "KillEmAll Mini.exe /debug" to start KillEmAll in DEBUG mode, allowing you to terminate each process one by one, optionally skipping termination of certain processes.
Release Notes
v21.1.27 – Corrected an issue that could cause KillEmAll Mini to hang when attempting to terminate certain processes.
v21.1.5.2 – Adjusted timing for an issue with incorrectly reporting 'Terminated=FALSE' when it was in fact terminated.
v21.1.5.1 – Debug mode now terminates or skips multiple processes of the same name with one user prompt.
v21.1.5 – Fixed a crash issue on Windows XP; minor tweaks to display output.
v21.1.4 – Added option to press 'G' to 'Google' the file while in debug mode.
v20.12.31 – Added options to generate a log file, to run as Administrator or TrustedInstaller, and added a debug mode!
v20.12.28.1 – No longer attempts (and fails) to terminate a few Windows Defender processes.
v20.12.28 – Now displays a console window showing each process terminated.
v19.4.15 – Now terminates processes roughly 5x faster!
Compatibility
All versions work with Windows Vista, 7, 8, and Windows 10.
Version 21.1.5.1 and above work with Windows XP.
Current Version v21.1.27 (Released January 27th, 2021)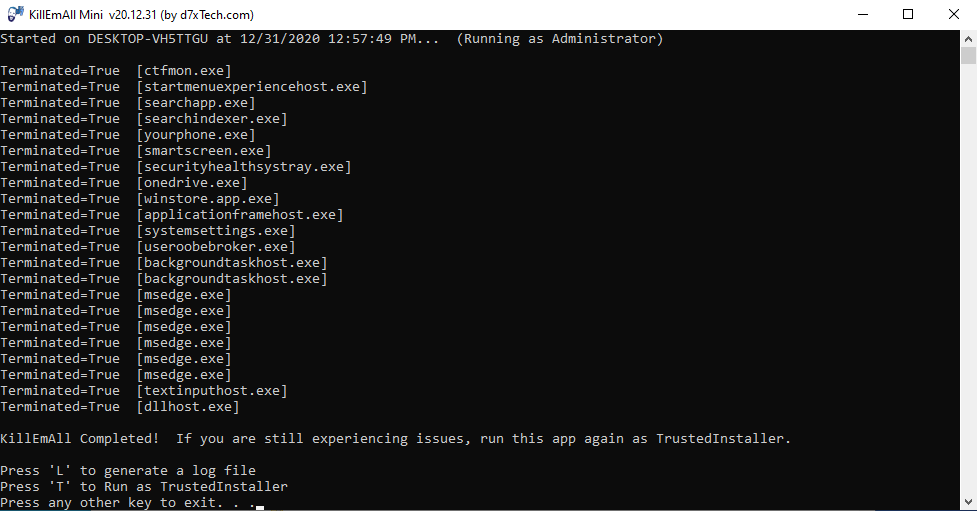 License
KillEmAll Mini is FREE for both personal and commercial usage.
Donate!
We're glad you wish to make a donation to our team, and even more so that whatever we've done for you was worth it!
Thank you for supporting our team, from the entire crew at d7xTech, Inc!
Tip Jar - Donation to d7xTech, Inc
Specify your tip amount in the Your Price field below!
($5 minimum - do not use a $ in the price field!)
Interested in Anti-Malware?
CryptoPrevent Anti-Malware is a robust anti-virus/anti-malware software supplement, filling a huge gap that exists with traditional security solutions to provide protection against a growing multitude of new and emerging ransomware and other malicious software threats.
Are you a PC Technician?
Check out Tweaky, a more advanced system tweak tool designed for PC technicians.
Want more tech tools?  Check out our flagship d7x PC Technician Productivity Tool, which is designed specifically for you!  d7x:  Automate, Relax, Get Paid!
Subscribe to Blog via Email