dErase is a tiny app designed for one purpose only, to delete files and/or directories with optional secure deletion routines.
What makes the dErase files different from standard delete utilities, is that it will ignore file system ownership/permissions entirely while deleting.
Usage:  dErase.exe
To delete a file or directory tree:

Simply drag and drop a file or directory on top of dErase.exe (one file or directory tree at a time)

Alternately you may launch the program normally and browse for a file or directory using the buttons in the user interface.

Finally, select your secure erase options and click the Erase button.

To delete an entire partition:

Select a drive, then select your secure erase options and click the Erase button.
Scripting/Automating dErase.exe
When scripting you must add a pipe | character at the end of the path\filename followed by the number of passes you want the secure delete tor run.  Usage:

dErase.exe [pathfilename][pipe | character][passes]

Example command to run 6 secure deletion passes on the "system volume information" directory:

dErase.exe C:\System Volume Information|6   

You may skip running secure deletion routines by specifying a zero for the number of passes, e.g.

dErase.exe C:\System Volume Information|0

You mail also erase an entire drive with the syntax:  (cannot be combined with the above syntax!)

dErase.exe /f=[Drive:][pipe | character][passes]

Example command to erase E: with 10 passes:
Behavior:  
dErase.exe will temporarily install itself as a Windows service in order to run under the local system account, which has the ability to bypass file system ownership/permissions restrictions.
Any attempt at deletion starts by renaming the file or directory with a random string of characters before deleting it, removing any file extension information in the process obscuring whether or not it is a file or directory, or a particular file type.
When deleting directories, it does not delete the parent directory initially, rather it recursively loops through each subdirectory and renames/deletes each file separately, then renames/deletes the parent directory.  This takes a good bit longer than just deleting the parent, but is more secure.
Deletion attempts will remove all file system junction points matching the target object or within.
Note that each single pass of the secure deletion routine on files and directories actually writes over the existing file with different patterns of data 7 times before deletion.  This in itself makes the default single pass of the deletion pretty secure already!  So in the example above of running 6 passes, you are actually writing over the file 42 times before deleting it.  This is not the case with erasing entire partitions, which only writes over the partition once per pass.
Caveats:
When dErase is run from a UNC path or mapped drive, it cannot install itself as a Windows service to run under the local system account (which does not have network access.)  While these utilities will attempt to delete the target file/directory if possible, the attempt will be subject to file system ownership/permissions limitations and may fail if they are restricted from the current admin user.  For this reason the utility will not function effectively in this environment from a network path/drive, and should always be used from a local drive.
dErase cannot delete files that are currently in-use.
You cannot drag n' drop multiple files or directory trees onto the dErase executable, it can only handle file or directory tree at a time.
Due to the method used to delete files, I would say that it can be a great stress test for the CPU and hard drive.
License:  
Freeware.  Completely free for personal and commercial use.
[download id="5206″ template="button"]
NEW:  d7x now includes 25 resell-able licenses of CryptoPrevent White-Label for each year purchased!
d7xTech Show
Join us for live tech chat, product questions, support, and technical training right here!
Customer or not, you are welcome to drop in and discuss anything 'tech' with us!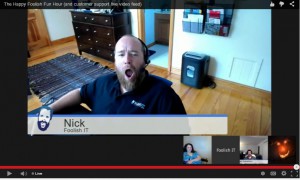 Subscribe to Blog via Email