BootSafe is a no-hassle utility to restart Windows in the Safe Mode of your choice.
Current Version: 5.0  (Compatible with Windows XP – Windows 11)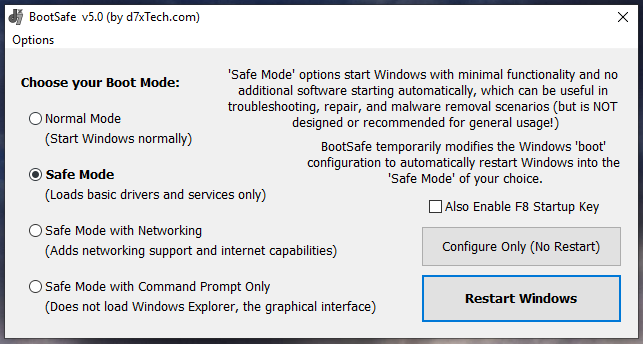 Purpose:
Windows 'Safe Modes' are designed to start Windows with minimal functionality and no additional running software.  This can be very useful in troubleshooting, repair, and malware removal scenarios.
BootSafe removes the work normally involved in configuring and starting Windows in any Safe Mode environment.  BootSafe also automatically attempts to repair damage to registry areas required to start 'Safe Mode' (in the event of a malware infection, or when other damage occurs.)
Usage:
Simply run BootSafe and select the desired Safe Mode option.  Next click the 'Restart Windows' button to apply the configuration and restart Windows (this will force the restart instantly, closing any open software; any data not saved will be lost!)  Alternately you may apply the configuration only (allowing you to restart later at your convenience) by clicking the 'Configure Only (No Restart)' button.
Upon restarting into a 'Safe Mode' you will be prompted by BootSafe to return to 'Normal Mode' or to continue starting in the 'Safe Mode' you chose on any subsequent restarts.
Backup:  Before any run, BootSafe creates or verifies that %systemdrive%\BCDbak exists, if not it is created with the command "bcdedit.exe /export %systemdrive%\BCDbak" and can be imported manually with bcdedit's /import command.  This process should never be necessary as BootSafe will always have the capability through the user interface or via command line parameter to restore Normal Mode startup functionality, and additionally this command at recovery console will undo the behavior:  bcdedit.exe /deletevalue safeboot
 * Special note for Microsoft accounts in Windows 10:
Windows 10 introduces Microsoft (online) accounts as the default user creation type, which allow certain settings and files to be backed up online and/or transferred to other PCs that also sign-in with the same user accounts.  These accounts require a password which may NOT allow login from Safe Mode!
BootSafe v5.0 and above have introduced a feature to optionally create a temporary administrative user (named "BootSafe_TempAdmin") when BootSafe detects that it is run from a Microsoft account.  This temporary user may be necessary for login to Safe Mode, and has no password assigned to it.  Upon return to Normal Mode and login to any other administrative user account, this temporary user will be automatically deleted.
If this user were NOT created, and your Microsoft account password did NOT work in Safe Mode, then you would be STUCK in Safe Mode; therefore if BootSafe prompts you to create this temporary user, it is STRONGLY RECOMMENDED to choose YES.
Safe Mode with Command Prompt Only:
When restarting Windows into this mode, please note the options to re-run BootSafe from the command prompt (without knowing the location of the file.)  Simply type the command below:
bootsafe – starts the main BootSafe interface with all available options.
bootsafe /[parameter] – start BootSafe.exe with any supported command line parameter (where [parameter] is replaced with the actual parameters documented here.)
Command Line Parameters: (for scripting/etc.)
Several command line parameters are provided for advanced usage, which are documented here.  Command Line parameters are applied by running the BootSafe.exe file followed by the command in bold below (each beginning with the forward slash character,) by using the Windows 'Run' dialog or a 'command prompt' console window.
/restart (or /reboot) – forces Windows to restart instantly, as it is currently configured.
/normal – prompts the user to restart into Normal Mode.
/safe – prompt to restart into Safe Mode
/safenet – prompt to restart into Safe Mode with Networking
/safecmd – prompt to restart into Safe Mode with Command Prompt
/remove – removes any modifications to the system made by BootSafe, and restores Windows configuration to start into 'Normal Mode'.
(Please note:  with any BootSafe invoked Windows restart, all open software will be closed without prompt; any data not saved will be lost!  Additionally with any command line operation, completely silent operation is not supported, but may be considered in future versions.)
No installation / Run Anywhere / "Portable" Use:
This program may be run from anywhere on the local PC's file system, a flash drive, CD/DVD, or any other removable media.  Simply copy BootSafe.exe to the device/media of your choice, and run it directly from that device/media wherever you go!
Network paths (including 'Mapped Drives') are not supported, as Windows must have access to the BootSafe.exe file upon restarting into a 'Safe Mode' in order to restore normal operations.  For this reason BootSafe will refuse to run from network paths (there is no override.)  A future edition may offer the option to copy itself (BootSafe.exe) to the local PC and run it from there, if requested.
This software completely FREE for personal and commercial use under the terms of this license.
Donate!
We're glad you wish to make a donation to our team, and even more so that whatever we've done for you was worth it!
Thank you for supporting our team, from the entire crew at d7xTech, Inc!
Tip Jar - Donation to d7xTech, Inc
Specify your tip amount in the Your Price field below!
($5 minimum - do not use a $ in the price field!)
Downloaded 19015 times
Subscribe to Blog via Email