Non-technical and casual PC users, please visit our Free Software page for apps that aren't so technically oriented.
These tools are intended for advanced users and may not include any documentation.  The majority of these tools are now integrated into other products.  As a result no further development is planned for the stand-alone utilities on this page.
Psst:  Just for the techs, you can also visit our Tech Info page for other great information and guides for techs, including useful Batch File examples, how to create your own setup 'installer' package, and a Network Boot Guide which walks you through integrating Syslinux with Windows Deployment Services!
If there are any issues expanding the FAQ questions click here for the single page version.

v5.0.0.12 open 'BETA' released Oct 8th, 2016
KillEmAll terminates every (currently running) program on your computer except essential Windows processes, and allows for inspection of running and/or terminated processes.
Redesigned and rewritten project from the ground up, based on the concept of the original KillEmAll software.
The first component based on entirely new code for the upcoming d7x software (the next generation of our flagship d7II PC Technician Productivity Software.)
Future versions will build on functionality for end users/consumers and IT Pros/MSPs/PC Repair businesses alike with free, premium, and technician versions that include partial d7x functionality.
v1.0 released Jan 26th, 2016
fGet is a download utility designed for batch/scripting usage, which simply downloads the data from the specified url to a local file. fGet optionally supports referring URL spoofing and HTTP login with basic authentication.
v2.0.1.5, updated Dec 14, 2016
A utility to quickly display the MD5, SHA1, SHA256, SHA384, SHA512 and SHA3 hashes of any selected file, and optionally compare the hashes with any hash string.  Drag and Drop support!
v4.1, updated Dec 31st, 2015
A no-hassle utility to restart Windows in the Safe Mode of your choice.  Windows 'Safe Modes' are designed to start Windows with minimal functionality and no additional running software.  This can be very useful in troubleshooting, repair, and malware removal scenarios (but is NOT designed or recommended for general usage!)
Removes Windows auto-start entries and restricts executables from running in common malware hiding places using CryptoPrevent style SRP policies, then immediately restarts Windows.
The concept is not to terminate running malware, but to write the rules that prevent it from loading after a restart, which is far faster and easier than the KillEmAll approach.  Should the tool be successful the malicious software will not start up after reboot, and from there you can use removal tools or other manual processes to locate and remove the malware.
dBug doesn't work all the time (because running malware has one advantage — it is already running and can protect itself,) but it is effective enough to warrant trying it in the majority of cases.
Utility to launch other applications under the NT Authority\Local System account and allow that app to be 'interactive' with the desktop.  Once a trivial matter on Windows XP, this has been difficult to achieve on Windows Vista and above.  This app is intended as a PSEXEC.EXE -i -s replacement since that it is not licensed for redistribution (and also PSEXEC is command line usage only and doesn't have an optional GUI, so ETS provides that too!)
Utilities to prevent three things:  Screen Saver, Sleep Modes, System Shutdown/Restart.
v1 is a portable application requiring no installation
v2 requires a quick and painless installation, but extends functionality to perform custom configurable actions when a shutdown/restart is initiated and prevented
Unsupported and outdated, people still seem to request this!  FixIDE is a utility to force-install standard IDE controller drivers on a 'offline' Windows XP installation (some users report the necessity and success of this process on Vista/7.)
This utility will quickly install Microsoft Word templates to the current user's template's folder, and place a shortcut on the desktop to create a new document based on that template.
Perfect for those office workers who never can seem to figure out Word templates, much less find them.
Command line automation also makes it perfect for sysadmins needing to deploy templates to many workstations at once, via logon script or RMM solution…
Featured on Lifehacker.com and many others, DataGrab is a Windows data backup utility designed originally for PC technician usage.  DataGrab was developed for quick one-click operation (yet with an array of options) to backup a Windows partition efficiently by retrieving all desired user data without temp/junk files and folders.
DataGrab can operate on both a running Windows partition such as C: or an 'offline' / 'slaved' / WinPE booted E:/X:/W:hatever drive.
DataGrab extends the convenience to PC technicians by backing up the same files and settings automatically that one would manually, while preserving an identical directory structure for an easy single command manual restoration process.
This is also a good learning tool for those not familiar with the file system locations of various application data.
Additionally, commonly used file types like various user documents and other items that may not be restored via simple copy operations (some email databases for example) can automatically be separated into another folder structure for easy manipulation while restoring data.
Please remember that DataGrab is an unsupported and undeveloped project that we pulled up from the basement.
ReAct is a "quick n' dirty" little utility I wrote because I'm constantly forgetting the various commands and reg hacks to work with Windows Product Activation.  NOTE:  This product, like most anything else we do, is also built-in to d7II/d7x, and may be updated only within that product as necessary.
Here you will find a few small "quick n' dirty" projects that don't really deserve their own web page, currently including UninstallAV, QuickSystemRestore, AutoCleanMgr, and LaunchDeviceManager.  The last two projects detail the internal workings of the functionality.
---
NEW:  d7x now includes 25 resell-able licenses of CryptoPrevent White-Label for each year purchased!
d7xTech Show
Join us for live tech chat, product questions, support, and technical training right here!
Customer or not, you are welcome to drop in and discuss anything 'tech' with us!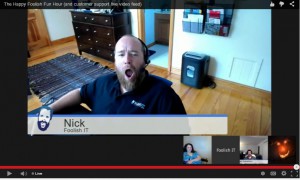 Subscribe to Blog via Email
Categories