Visit the dSupportSuite blog category for all current dSupportSuite specific news and updates (or subscribe via RSS.)
We also ask that you take a moment to sign up for our newsletter here, in order to stay current with the latest dSupportSuite product news, as well as receiving sale announcements and coupon codes for future purchases in our store!  You may choose to receive only dSupportSuite news or all product news.
Visit our Message Forums to post your questions or feature suggestions, or contact us for official support.
Before you can dive in to configuring and deploying your first installer for the dSupportSuite client software, or even work with the dSupportSuite Mgmt Console, you need to setup or configure an FTP server for use with dSupportSuite.  An FTP server provides the communication backbone for the mgmt/client software, housing the configurations for the client software to download / update to.
All you need to get started is one single FTP user account, which has full access/permissions to its home directory, and you can access with standard insecure FTP protocol.
Some people create an FTP account on their web host, while others host their own FTP server locally for the task.  Others use a mix of the solutions, and go with a free Amazon EC2 instance running FileZilla server.  In extreme usage scenarios you may spend a few dollars a month, but most people never go past the free tier.  The step by step guide to setup is below.
dSupportSuite Setup/Management
First Time Setup of dSupportSuite Mgmt Console – here you will get a quick overview on how to get your copy downloaded and ready to configure. 
Understanding dSupportSuite Management – here you find information on using dSupportSuite Mgmt Console, which is your interface for setup and configuration of the dSupportSuite Client Software.
dSupportSuite Client Software Config – this is the raw and dirty detail of the dSupportSuite Client Software's internal configuration.
Migrating legacy dCloud accounts to a self-hosted FTP server – This process will migrate paying legacy dCloud account holders to a self-hosted FTP server setup for the dSupportSuite communications backbone.
Known Issues / To Do List – here you'll find both the known issues with dSupportSuite and their resolutions, and the To Do List of things I want to accomplish but have yet to.  Visit this page occasionally to stay on top of current developments in these areas.
dSupportSuite Mgmt Console - Setup
Getting to know dSupportSuite Mgmt Console
dSS Training Section 1 Setup Mgmt Console (In-Depth)
Deploy dSupportSuite Client Software Updates to Your Customers
Other Downloads:  Custom Apps (and Updates)
Emsisoft a2cmd – Updated March 14th, 2017!  Corrects all issues with the latest a2cmd application updates from Emsisoft, please see the instructions included with the download for installation/usage.
NEW:  d7x now includes 25 resell-able licenses of CryptoPrevent White-Label for each year purchased!
d7xTech Show
Join us for live tech chat, product questions, support, and technical training right here!
Customer or not, you are welcome to drop in and discuss anything 'tech' with us!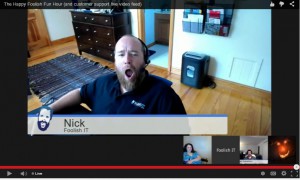 Subscribe to Blog via Email
Categories