Automatic System Restore Point Creation
Show Config Button – Allows dSupportSuite's main UI (intended for client use) to display and allow edits of the schedules defined originally below.  I generally don't recommend enabling this as it is not very intuitive for the client.
Note when configuring a custom schedule for restore points, or when configuring any schedule for that matter, the time must be in 24 hour time format in hh:mm:ss.  This means that 8am = 08:00:00 and 2:30pm means 14:30:00
NEW:  d7x now includes 25 resell-able licenses of CryptoPrevent White-Label for each year purchased!
d7xTech Show
Join us for live tech chat, product questions, support, and technical training right here!
Customer or not, you are welcome to drop in and discuss anything 'tech' with us!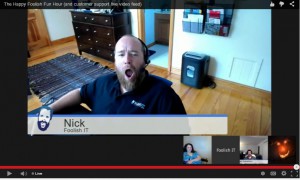 Subscribe to Blog via Email