KillEmAll v5 was released without the internal logic required to avoid terminating a critical Windows system file "fontdrvhost.exe" which is in part responsible for the rendering of text based graphics displayed in various areas of many programs running on Windows 10.
Problem:  When terminated by KillEmAll, you will notice corrupted display of text, or no display of text, in all affected programs.  Text is displayed properly again only after restarting Windows.
Note for PC technicians using d7x:  The KillEmAll v5 version internal to d7x does NOT terminate fontdrvhost.exe, as it's updated code base has the internal logic required to avoid termination of this program, as well as several others related to functionality used in the Windows tablet PC mode.
Fix:  Add the "fontdrvhost.exe" program to your 'Allowed Programs' list in KillEmAll v5.  You will actually add "<s>\fontdrvhost.exe" (no quotes) which will tell KillEmAll to only allow the program if it is running from the proper location in Windows (this ensures malicious software running under the same name in a different location is not allowed to run.)  See the guide below to learn how.
To begin, you MUST see this prompt when you start KillEmAll: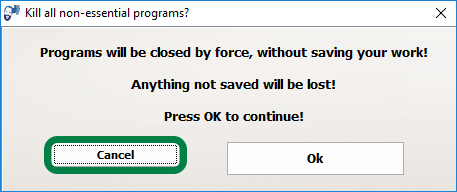 IF you do not see the above when starting KillEmAll, you have enabled the Fast Startup option which terminates programs instantly when KillEmAll is started.  You may be able to see and uncheck this from the 'Options' tab in KillEmAll (you do not need to click a 'save' button), or you may not be able to see it.  This is the first of  the 2 selectable options on the left of that tab.  If you cannot see the checkbox to uncheck it, then you can disable this easily by deleting the configuration file for KillEmAll.  See the last two graphics under "Delete Config" below only IF you need to do this prior to starting KillEmAll.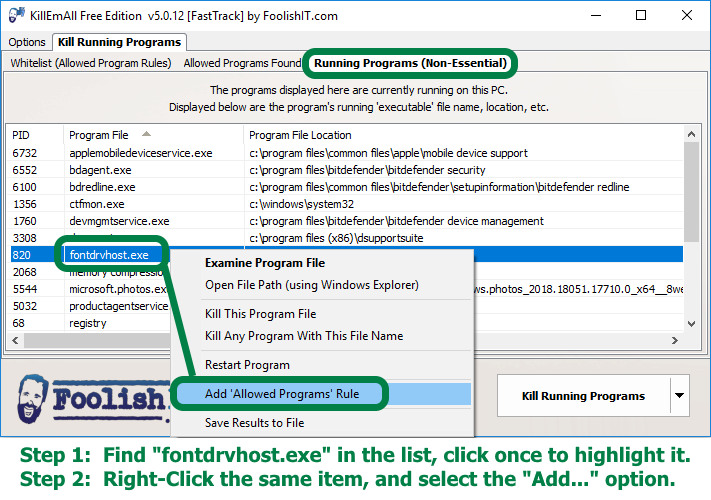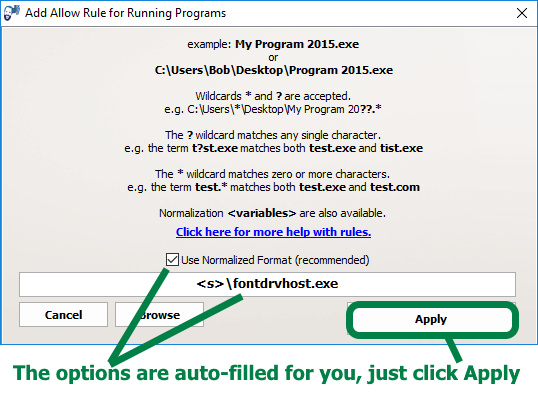 When completed, you should now have this text on the 'Allowed Programs' tab (see below, it is not necessary to Save the list if this method worked for you.)
If you didn't see the '"fontdrvhost.exe" file in the list of running programs, then you can add the same text manually to the box on the 'Allow Programs' tab (again, see below.)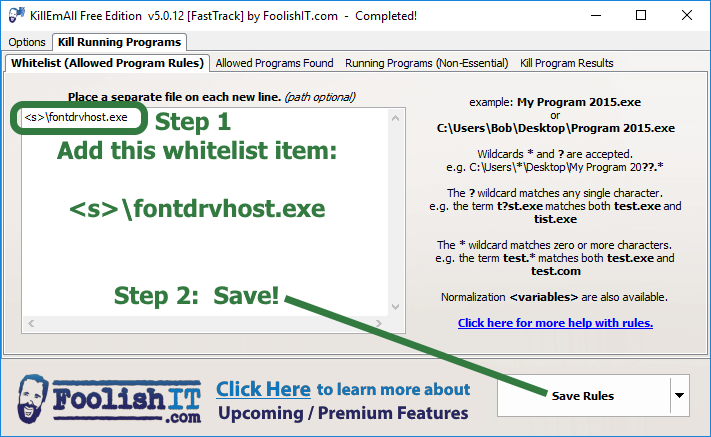 Delete Config (Optional):
This is only necessary if you couldn't perform the steps above due to KillEmAll's 'Fast Startup' option being enabled.  Once the config is deleted, you can start KillEmAll without terminating the "fontdrvhost.exe" file and preventing the text from being displayed.
Note the config only contains the two options from the options tab in KillEmAll, and does NOT contain any program "definitions" for your 'Allowed Programs' list.  To clarify, if you already have items in your 'Allowed Programs' list, they will not be affected by deleting the config file below.