d7x Quick Tip – Automating the d7xRDT
d7x Quick Tip – Automating the d7xRDT with d7x v19.6.18
About
Nick
Founder and Developer - After over a dozen years "in the trenches" as a computer repair technician specializing in malware removal, I came to focus on a software development hobby. Initially I created tools to assist technicians like myself with the inefficient, repetitive, and mundane tasks PC techs face daily, in order to provide a far more efficient means of getting the job done. Later came an interest in using my development skills and tech experience for prevention of malware...
You also might be interested in
Improvements: Improved Windows Update repairs for Windows 10 specific issues.[...]
Fixed an issue where d7x failed to start with the[...]
d7x v19.5.14 Release Notes: The d7x Startup Menu (hold CTRL[...]
NEW:  d7x now includes 25 resell-able licenses of CryptoPrevent White-Label for each year purchased!
d7xTech Show
Join us for live tech chat, product questions, support, and technical training right here!
Customer or not, you are welcome to drop in and discuss anything 'tech' with us!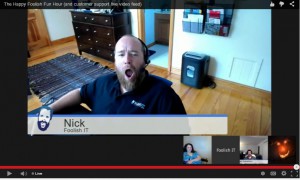 Subscribe to Blog via Email