2
Jul 26, 2013
Today I'm slowing down, spending a little time with the family, for tonight I embark upon the great journey to CompTIA ChannelCon in Orlando Florida.  I'm driving, not straight there as I have a colleague to pick up along the way, but tomorrow we'll begin the trek. That means that for the next week, until […]
3
May 4, 2013
YES!  Foolish IT (that's me!) will be an exhibitor at CompTIA ChannelCon 2013 at the Peabody Hotel in Orlando, FL on July 29th – 31st! If you are in the area or can make a trip, come on out!  I'd love to meet you!
NEW: d7x "Single Pay" purchase option – buy once use forever!
d7xTech Show
Join us for live tech chat, product questions, support, and technical training right here!
Customer or not, you are welcome to drop in and discuss anything 'tech' with us!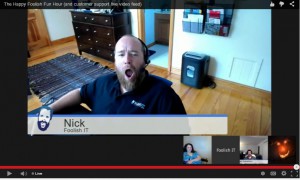 Subscribe to Blog via Email
Categories