The dSupportSuite Mgmt Console (dSSMC) is used to create and deploy configuration sets for remote copies of the dSupportSuite Client Software.
dSSMC will check for updates to itself, and also re-download (refresh) your Client ID subscription information from your FTP server every 10 minutes that dSSMC is running. Additionally dSSMC will backup your subscription information every time you remove a Client ID or close dSSMC.
WARNING:  operating more than one copy of dSSMC at one time even on different PCs is NOT recommended. dSSMC exchanges configuration files with your FTP server – if multiple copies are open and configuration changes are made – especially to the Client ID list, trouble will occur!!
To begin, you'll want to always ensure you are using the latest dSupportSuite Client Software, so take note that your local version at the top of the interface is the same as the current version.  The local version is the one you are currently working with, the current is the version available for download from my server.
There are two types of configuration set you can create for the dSupportSuite Client Software, a Client ID config and a Template config.
Client IDs
A Client ID contains a configuration set for dSupportSuite Client Software, which is installed on your customer's machines.
A single Client ID is typically created for each different customer you have using the dSupportSuite Client Software, and all machines belonging to that customer with the client software installed use the same configuration associated with this single Client ID.
There may sometimes be a need to assign multiple Client IDs to a single customer, for example if a different configuration is needed for workstation and server OSes.
Templates
A Template is like a Client ID in that it is a container for a configuration set for the dSupportSuite Client Software.
A Template differs from a Client ID in that it cannot be tied to any deployed copies of the dSupportSuite Client Software.
A Template can be copied to one or more Client IDs, overwriting their existing configuration.  Likewise, a Client ID may also be copied to a Template, overwriting its configuration.
Because either a Client ID or a Template can be copied to the other, it doesn't really matter which one you start with.
Creating your first dSupportSuite Client Software configuration set
To get started, find the New Client ID button or the New Template button (on the Manage Templates tab) and click.  Type a new Client ID or Template name in the prompt, using care to only include characters that could be found in a standard Windows directory or file name, and we recommend always using lowercase letters.  Next, the configuration interface for the dSupportSuite Client Software appears if you selected to create a new Template.  If you created a new Client ID you will need to double click on the newly created Client ID to start the configuration interface for the client software.
Compiling your first dSupportSuite Client Software setup installer
Once you have saved a configuration set from the dSupportSuite Client Software configuration interface, you can create a custom setup installer capable of installing that pre-configured setup on a customer's machine.  If you created a Template, you'll want to ensure you have created a Client ID for the deployment, and then copy the config to the Client ID.
Highlight the desired Client ID to create a custom setup installer, and configure the options on the Create Setup Installers tab.  Once configured, use the Compile button for that type of installer.
Creating Setup Installers
These "installers" will install the dSupportSuite Client Software to your customer's PC, and can be run in standard mode with user interaction prompts, or in an invisible/unattended mode with certain command line parameters passed to the setup executable.
There are two types of installer you can create, a Customized Installer and a Generic Installer.
Customized Installers
A customized installer can be created and tied to a specific Client ID, so that this software always installs and configures for that particular customer.  Optionally customer information may be embedded inside the installer, prompted for after install, or skipped entirely.
Generic Installers
A generic installer allows you to carry one installer to install the dSupportSuite Client Software for multiple different Client IDs.  You have the option to enable new Client ID creation from the generic installer as well.
Deploying Client ID configurations
You can deploy existing or updated configuration sets you have configured for your Client IDs via the "With Selected Client ID(s)" menu at the top of the console, or via right-click in the Client ID listbox.  In those menu options you can choose to upload the config only, the rules only, or both.  Rules are kept separately, and always refers to the event log monitoring rules for the real-time event log monitoring.
Manage Restrictions
With Client IDs you can control what the software does by a reconfiguration, or if you just need to quickly restrict certain functionality you can do this from the Manage Restrictions tab.  You have the option to force a URL to be displayed when a restricted action is performed, and you can also remotely uninstall the software.
Deploying updates to the Client Software
At the top of the interface, you have a deployed version and a revert version.  The deployed version of the software that you have uploaded to your FTP server for your clients to update from.  The revert version is the previously deployed version, which you can "revert" to in case a newer deployed version causes issues.  This functionality is not available to users of dCloud legacy accounts, you must be using your own FTP server for this functionality.
NEW:  d7x now includes 25 resell-able licenses of CryptoPrevent White-Label for each year purchased!
d7xTech Show
Join us for live tech chat, product questions, support, and technical training right here!
Customer or not, you are welcome to drop in and discuss anything 'tech' with us!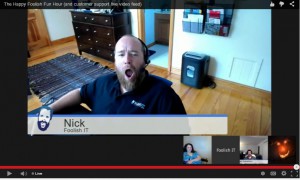 Subscribe to Blog via Email