To Do List
Windows 10 recognition.  Done.
Implement multi-language support.  Done.
Redesign Management Console.  Done.
Implement online storage of templates and other Management Console settings.
Implement a system to link Client IDs to templates on the server.
Known Issues
All downloads will fail if:

Internet Explorer is in Work Offline mode
On a server OS when IE Enhanced Security Configuration is enabled for administrators.

When scheduling a Maintenance task to run on the 2nd week of the month, it will run on the 1st week of the month instead if the client OS is Windows XP.
You may occasionally see in the event logs one or more Event ID 7031 events triggered reporting that the dSupportSuite Event Service has terminated unexpectedly, and that the service was restarted.  Sometimes this service does stop but it is configured to always restart instantly and this behavior is normal.  In fact, the service restarts so quickly that it is able to report it's own event for the crash.  The only time you need to worry is if you get an error in a health check/Heartbeat that states that "My Event Monitor Service is NOT Running" which means that it cannot start for some reason.
There is no multi-language support for local logging / email reporting features, and there are currently no plans to implement this unless I receive some reasonable requests for the feature.
Mgmt Console will crash when attempting to update the client software if you skipped the install client software button in the config/setup.
CryptoPrevent and dUninstaller support is not yet implemented, so their product key fields and configuration screens are disabled.
NEW:  d7x now includes 25 resell-able licenses of CryptoPrevent White-Label for each year purchased!
d7xTech Show
Join us for live tech chat, product questions, support, and technical training right here!
Customer or not, you are welcome to drop in and discuss anything 'tech' with us!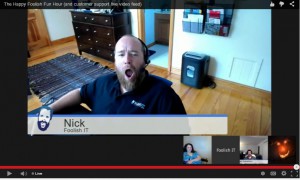 Subscribe to Blog via Email
Categories