Installing CryptoPrevent Premium Edition v8/v9 and Beyond:
To install CryptoPrevent v8.x/v9.x and beyond, please see the instructions in your purchase email for a download link and installation key.  
 * Although the information may not always be specific to your version, you can also see our FAQ on CryptoPrevent Client Installation for a visual walk-through on the installation process.  
Automatically Upgrading from Older Versions
All Premium Edition versions will automatically update to the latest versions of the software.  (This includes v6.x and earlier, which are known as the "Automatic Update Editions" instead of the current terminology of "Premium Editions")  In fact, we've received notice from a user updating an old/unused installation of v4.x that was successfully updated to v8.x without issue, and within one single update process (rather than an update that updates to previous version which may then update to the current version.)  We also know the process will work the same with v9.x as well.
Due to our large CryptoPrevent user-base, as we roll out new versions of the software we may often perform a "controlled roll-out" over the course of several days to a week, depending on the size of the update.  We do this in order to lighten the load on our servers and ensure that no one has trouble receiving the update.  In other words, not all copies on earth will update at the same time!
If you just can't wait, you can always download the latest version's install files and perform an "upgrade installation" (i.e. without first uninstalling the existing software) but please see this document prior to performing your upgrade installation!
Install CryptoPrevent Premium Edition (v7.x only!)
Download CryptoPrevent v7.x
Download CryptoPrevent Premium (setup installation file) below, then follow the instructions in this area for installation.
Download Maintenance Add-On
This download is only for the CryptoPrevent Premium + Maintenance Combo Pack.  It contains the second program, dMaintenance Home Edition, which will require a separate Product Key from your purchase confirmation email.
After purchase, you will automatically receive a confirmation email with your CryptoPrevent Premium Product Key.
Inside the email, you should have a line like this, which is your Product Key:
CryptoPrevent Premium Edition – XXXXX – XXXXX – XXXXX – XXXXX – XXXXX 
Copy the product key (everything after CryptoPrevent Premium Edition and after the first dash) by highlighting it, then right click, and select Copy from the menu.
If you have not installed CryptoPrevent already, skip to the next section:  Installing CryptoPrevent Premium Edition.
If CryptoPrevent is Already Installed
If you have already installed and did NOT enter your product key in during installation, you may do so at any time and create the automatic schedule by launching the program and following the pic below: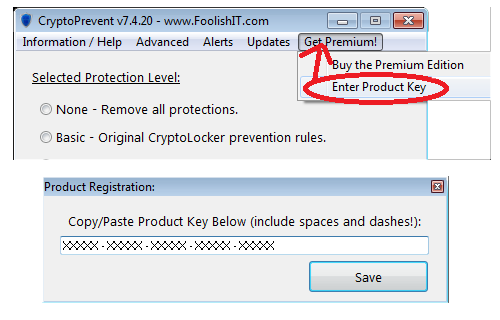 Installing CryptoPrevent Premium Edition
Download CryptoPrevent in the top left column of this page, run the downloaded file, and follow the prompts.
Ensure the Product Key was copied as specified at the top of this page.  Paste the key into the box when prompted by right-clicking the box and selecting Paste.
See pic below for the entire process: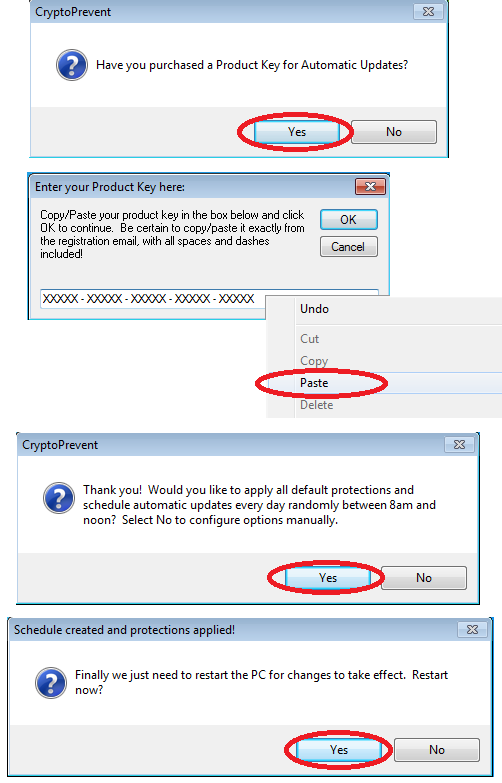 Now you're protected!