Current Version: 1.0
This utility installs a right-click context menu item in Explorer which allows you to run a program with command line parameters.
Right-click option is enabled for these file types: EXE, COM, SCR, BAT, CMD, VBE, VBS, WSF, WSH, MSI, and .LNK
More features:
always executes with administrator privileges.
option to save your parameter history for quick execution of repetitive tasks.
option to capture the errorlevel (exit code) of supported file types to be reported when the execution is completed.
option to run the program in a console window (command prompt/cmd.exe) for apps that produce console output.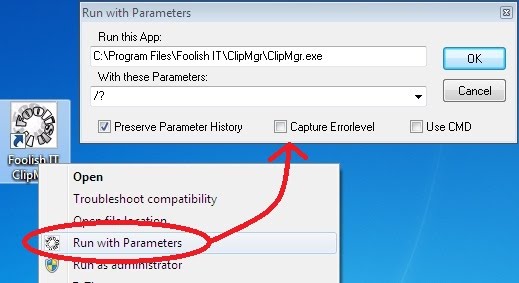 Installation:  Run the installer! When the installer finishes, you will be prompted to load the app into the context menu.
Removal:  Run the uninstaller from the start menu.  You will first be prompted to unload the app from the context menu before uninstall proceeds.
Without complete uninstall, you may at any time unload (or reload) the item to/from the context menu by simply running the app from the start menu.
Portable Usage:  Although the app is bundled in an installer package, it may be used as a completely portable app by simply copying the installation directory to wherever you wish (flash drive, etc.)
You may load the app into the context menu or unload it by simply running the app with no parameters.
You may also drag and drop files directly onto the app to invoke the Run With Parameters prompt/functionality WITHOUT actually installing it as a context menu item.
License:  
This software completely FREE for personal and commercial use under the terms of this license.
This program is provided with no warranties or guarantees of any kind, and that you and only you are held as the bearer of sole responsibility for any use or misuse of this software and any resulting damages in any form, monetary or otherwise.
Download:
Subscribe to Blog via Email