Running dMaintenance Home Edition:
When you click to run the software, it will ask you to click yes to confirm running the default or pre-configured maintenance settings, or click no to visit the configuration settings.
Entering your Product Key to register the Premium edition:
To unlock all of the features of dMaintenance Home Premium, you need to enter a product key from your purchase confirmation email.  If you did not do this during installation when prompted, you may do it in the top left corner of the configuration screen.  This product key should be copied/pasted directly from the email, including all dashes and spaces, else it will not work!!  Once you paste the product key into the top left box, you must use the Save and Close button, then re-launch the software in order to unlock all of the Premium features.
Scheduling automated/silent maintenance:  (Premium)
Please see the Configuration:  Scheduled Tasks page.
Automatic updates to the software:  (Premium)
With the Premium edition, updates are hands-free and worry-free.  Automatic updates to this application will occur every time a scheduled maintenance task runs.  If updates exist, the app will update itself prior to running the maintenance routine.
Manual updates to the software:  (Free or Premium)
At any time in any version (Free or Premium) you may manually check for and install updates by using the Check for Updates link in the Main Menu in the top left corner of the configuration settings.  NOTE there was a bug in the first release (v3.0) that prevented manual updating from the free edition; this bug was resolved in v3.0.1
Configuration Specifics:
NEW:  d7x now includes 25 resell-able licenses of CryptoPrevent White-Label for each year purchased!
d7xTech Show
Join us for live tech chat, product questions, support, and technical training right here!
Customer or not, you are welcome to drop in and discuss anything 'tech' with us!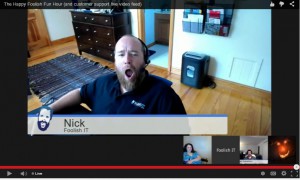 Subscribe to Blog via Email