Welcome to the Affiliate Center
Join our affiliate program and start earning money for every sale you send our way! Simply create your account, place your linking code into your website and watch your account balance grow as your visitors become our customers.
How Does it Work?
The process is very simple:
1. Visitor clicks on an affiliate link on your site or in an email.
2. The visitors IP is logged and a cookie is placed in their browser for tracking purposes.
3. The visitor browses our site, and may decide to order.
4. If the visitor orders (the order does not need to be placed during the same browser session – cookies and IPs are stored for 90 days), the order will be registered as a sale for you and you will receive commission for this sale.
5. Commission is a minimum of 7%* for affiliates and is accrued on the entire cart total, after any discount codes the customer may have used. Payouts are scheduled for the beginning of the month for affiliates with a minimum balance of $100, to be paid via Paypal.
6. Affiliates purchasing software do not accumulate commission for those purchases.
7. Affiliates may be provided with evaluation software upon request and approval.
8. Affiliates may NOT (without express written consent) use affiliate links on content that was published prior to your affiliate sign-up date.
Already an Affiliate?
Please visit the Affiliate Login page and enter your username and password to gain access to your account statistics, banners, linking code.
NEW!  2nd tier affiliate option:  If you refer others through your affiliate link to my website, who then sign up to become d7xTech.com affiliates themselves, then you will receive a minimum of 3% commission* on what they sell as well, for the next year!!!
NEW:  d7x now includes 25 resell-able licenses of CryptoPrevent White-Label for each year purchased!
d7xTech Show
Join us for live tech chat, product questions, support, and technical training right here!
Customer or not, you are welcome to drop in and discuss anything 'tech' with us!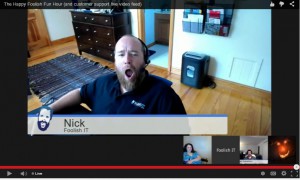 Subscribe to Blog via Email
Categories