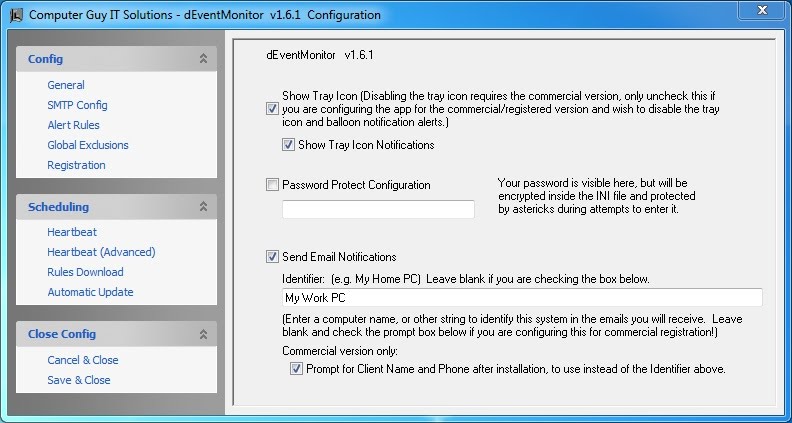 Show Tray Icon – This option runs the Desktop Monitor component visible in the system tray, and allows for Tray Icon Notifications to be enabled. (disabling this option enables the application to run silently/invisible to the user, and requires the registered version.)
Show Tray Icon Notifications – This option enables notifications from the system tray in the form of balloon tip popups when an alert rule is triggered.
Password Protect Configuration – This option enables a password requirement to access the configuration screens.
Send Email Notifications – Naturally this option sends email to your predefined address as the alerts occur. You must configure SMTP settings for this option to function. (Note you will only receive up to three emails for each individual alert triggered in the same day, if the same alert is triggered more than three times, you will not be notified by email until the alert is triggered the next day.)
Identifier – Used for identifying the PC, this adds the text you specify to the subject of the email you will receive when an alert is triggered. This option is not used in the registered version in favor of the next option.
Prompt for Client Name … – When checkced, this option will prompt you for the client's details (name, phone number, and a description of the PC) after installation of dEventMonitor. This more detailed information will be added to the email you receive when an alert is triggered, instead of the basic Identifier above.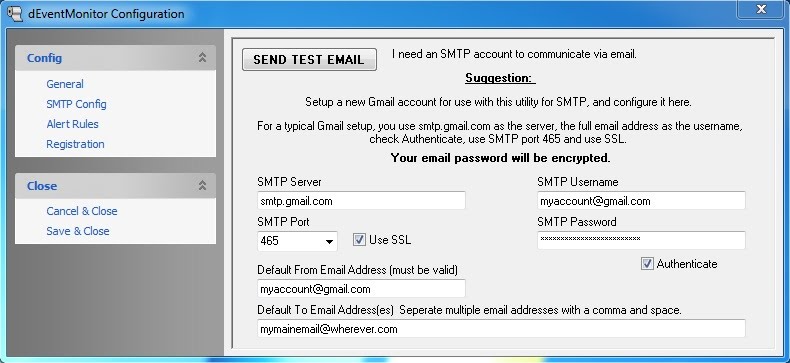 SMTP Config:  Required to receive email alerts, you must set up an SMTP account here. If you do not have a server to use, I recommend setting up a free Gmail account in order to use it's SMTP server. I personally have a Gmail account which I only use for this purpose.
SMTP Server – for Gmail this is smtp.gmail.com
SMTP Port – for Gmail you want to use 465, and check Use SSL
SMTP Username – This is typically your full email address.
SMTP Password – for Gmail you want to be sure to check Authenticate below this. Your password will be stored with basic encryption inside the dEventMonitor.INI file to keep it away from prying eyes.
Default From Email Address – This address is where the email is coming from and will be used in replies, and is usually configured to be the same as your SMTP Username.
Default To Email Address(es) – Finally, this is where the email alert is going to be sent, usually your main email address or the email address of your support/tech department/whoever is supposed to be monitoring these alerts. You may specify multiple email addresses in this field by separating them with a comma and a space, e.g. mysupportteam@mydomain.com, myleadtech@mydomain.com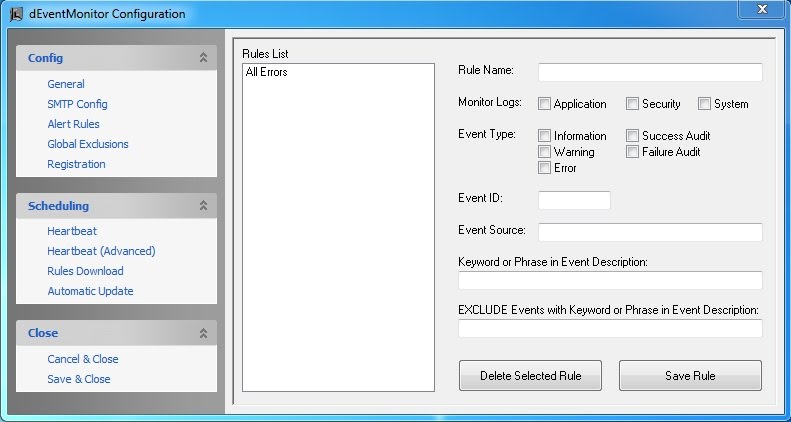 Alert Rules:  Here is where you define a list of rules that trigger the alerts you specify. For each rule you want to create:
Specify a Rule Name
Check the Monitor Logs option for each event log you wish to monitor, or any combination of them. You must check at least one.
Check the Event Type to monitor, again any combination of types are acceptable. You must check at least one.
Input the Event ID if you wish to monitor for a specific Event ID, else leave blank.
Input the Event Source if you wish to monitor a specific source, else leave blank.
Enter a Keyword or Phrase to scan for in the Event Description text, else leave blank.
Enter a Keyword or Phrase to scan for in the Event Description text, which will EXCLUDE alerts from being triggered, else leave blank.
Click the Add Rule button, and your rule will appear in the Rules List.
Each rule you create is stored as a separate .DAT file in the installation directory of dEventMonitor, inside the Rules subdirectory. This makes created rules easy to transfer to new PCs where you install dEventMonitor, or also to take advantage of the Rules Download feature you will read about next.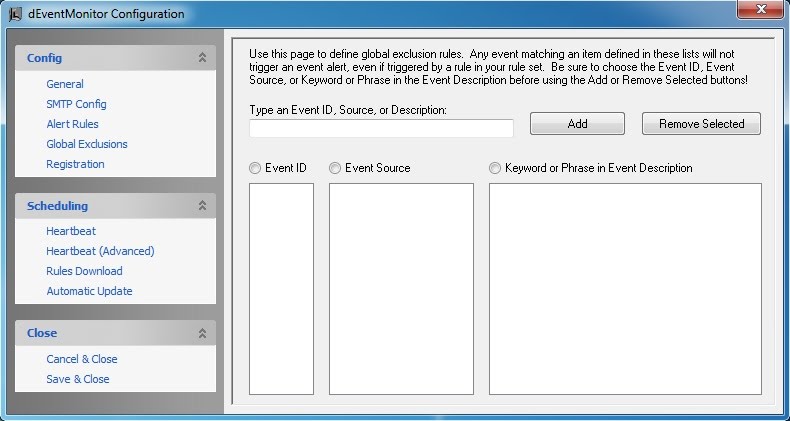 Global Exclusions:  Here is where you can define a list of Global Exclusions. Any item in either of these lists will be excluded from triggering an event alert, even if the item matches an item in your Alert rule set on the previous configuration page. Define any Event ID, Event Source, or Keyword / Phrase in the Event Description to always exclude these from event alerts.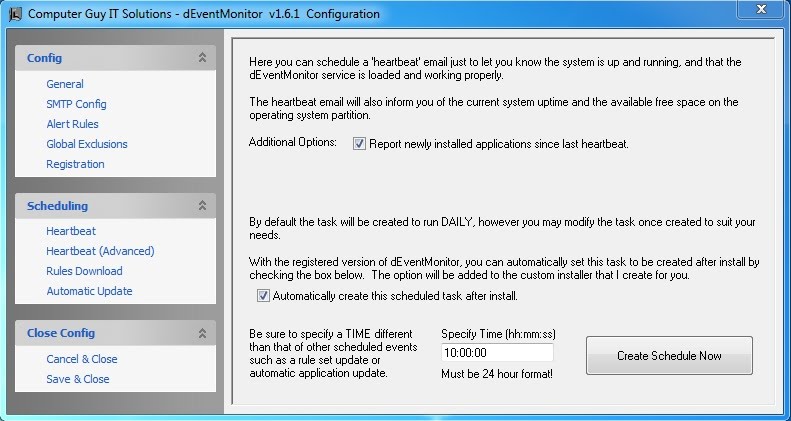 Heartbeat:  Here you may schedule a "heartbeat" email alert to be sent to you on a regular basis.
Report newly installed applications since last heartbeat – does just what it says! Provides this detail in the heartbeat email:

New Application Name
Publisher
Install Path

Automatically create this scheduled task after install – for the registered version only, when checked your installer will automatically create this scheduled task.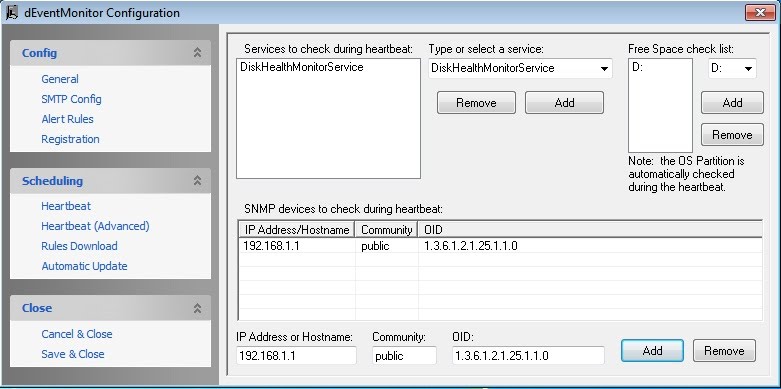 Heartbeat (Advanced):
Services to check during heartbeat: This is a list of Windows services you can configure, to include the current status of the service included in the heartbeat email. Note you MUST use the actual service name, not the descriptive service name! e.g. "BITS" is correct, whereas "Background Intelligent Transfer Service" is incorrect.
Free Space check list: Here you can select other partitions to check for free space during the heartbeat.
SNMP devices to check during heartbeat: Here you can send a simple query to any SNMP enabled device on your network for a specific OID. This is useful just to check for signs of life!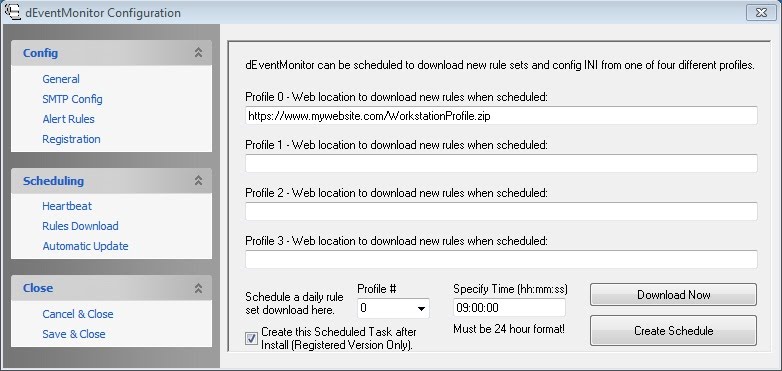 Rules Download:  You can create up to four different profiles of rules which can be scheduled to automatically download, so your rules on a client's system will stay up to date with what rules you want them to have. This is useful for when you decide to add, modify, or remove any number of your rules.
The reason for creating four different profiles is because you may want to maintain different rule sets for different PCs, example one for workstations, one for file servers, one for servers with Exchange, etc. etc.
To take advantage of rule profiles, you need to host a ZIP file on your own webserver containing the rules you wish. The rules are located inside your dEventMonitor installation directory, in the Rules subdirectory; each rule created is a separate file named by your rule name with a .DAT extension. Once you have zipped up your rules and stored them on your webserver, you simply input the Download URL to your ZIP file in the appropriate profile field. Once this information is saved in your configuration, on each machine you install dEventMonitor on you may select the appropriate profile number you wish to download, and use the Download Now button to download that rule set. Also you can create a schedule to have dEventMonitor automatically download the rule set using the Windows Task Scheduler, so your rules on each client PC will stay up to date.*
* To create a schedule to download the rule sets you specify, you must be using the REGISTERED version of dEventMonitor.
By default, when you create a scheduled task to download the rule set, it will run daily at 9am. After the scheduled task is created you will be prompted to open Windows Task Scheduler to modify/refine that schedule to suit your needs.
OPTIONAL: You may also include an updated dEventMonitor.INI file in your rules ZIP file if you wish, to be installed along with your updated rule set. This can be useful if you have to modify some information in the INI file such as the General options, your SMTP config, even your profile download locations, etc.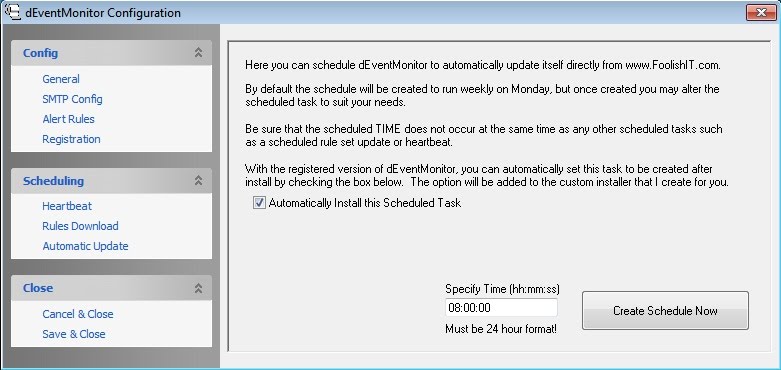 Automatic Update:  Here you may schedule a task to automatically update dEventMonitor to the latest version from www.FoolishIT.com
Subscribe to Blog via Email