None are known at this time.
Functionality Issues (Other)
Update Failure:  d7x v18.7.4.x may not update due to an authentication failure, but regardless it will attempt to do so upon seeing a required update.  To resolve, simply replace the main exe with the current one which can be downloaded in the d7x Manual at the top of the page.
Update Failure:  d7x v18.2.3.0 [TestBuild] and all previous versions will no longer self-update or recognize update availability.  The issue also causes failure when launching any d7xRDT packages created with this and previous versions of d7x.  See this post for details.  
The Check for Updates option on the Main menu may appear to do nothing (though it does actually check for updates.)  Should an update exist that is NOT the main d7x executable (e.g. modules or default custom app configurations), it will be performed automatically, although you will receive a message stating that no APPLICATION updates exist (referring to the d7x executable itself.)
User Interface (Minor/Cosmetic)
Issue:  Several child windows in d7x (e.g. the internal KillEmAll) may fail to display your customized icon in the top left corner (meaning the 16×16 pixel ICO, not the larger BMP logos…) even though it appears in the main and most other d7x windows.
Notice:  Although the "Installed Date" value on the System Info tab is reported correctly in Windows 10, the value itself is now modified during every major Windows 10 update.  We are investigating other methods to obtain the original installation date, and plan to update the interface accordingly (with this field reflecting the last major update on Windows 10.)
Issue:  d7x lower status bar may not return to "Idle…" status after performing certain actions (the last status message remaining on the screen.)
Issue:  d7x lower status bar may report "Idle…" when busy (or an idle/display message) during an Auto Mode.  Specifically, Malware Auto Mode configurations using KillEmAll settings/options at the top can trigger this behavior, though it may also be caused by various other reasons in any Auto Mode.
Subsequently, clicking anywhere within a d7x based user interface will trigger the "Not Responding…" Windows message.  In this case, d7x isn't updating the user interface appropriately, which causes both the status bar "Idle…" message as well as the Windows/app unresponsive behavior when the user initiates any type of interaction with one of d7x's windows.
Please be assured that d7x is most likely doing what it should be, and therefore d7x should be left undisturbed for a reasonable amount of time (even in a state where the user interface is unresponsive) based on the last action performed or desired, in order to determine if there is any issue (beyond the broken UI status update.)
NEW:  d7x now includes 25 resell-able licenses of CryptoPrevent White-Label for each year purchased!
d7xTech Show
Join us for live tech chat, product questions, support, and technical training right here!
Customer or not, you are welcome to drop in and discuss anything 'tech' with us!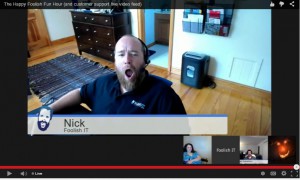 Subscribe to Blog via Email