Two versions of Amphetamine exist for your usage, a 'portable' version (v1) which can be run without installation, and an 'installer' version (v2) which has extended functionality, but must be installed to the system like a standard program (yes, it can also be uninstalled of course!)  Both versions are available on this page.
Which Amphetamine is right for you?
Amphetamine v1 (portable) is best if you need a portable app to merely prevent screen savers, standby modes, or shutdown and restart. This was made with PC Technicians in mind while working on systems.
Amphetamine v2 (non-portable) is best if for example you always need to keep a particular system up and running at all times, ensuring programs and services are kept running. This was made with System Admins in mind to keep critical servers up and running.
---
Amphetamine v2 (non-portable)
Current Version: 2.0.1
Amphetamine v2 takes the same principals of the original Amphetamine (portable) but extends new functionality to perform custom actions when a shutdown/restart is initiated and prevented by Amphetamine:
Ensure preconfigured services are started.
Ensure preconfigured programs are running.
Run a program/script.
Email you (the administrator) notifying you of the prevention.
Amphetamine v2 is also bundled as an installer, instead of a portable app like v1.
License:  Amphetamine v2 is FREE for all personal use, however commercial use requires a license.  Contact us for details.
OR
---
Amphetamine v1 (portable)
Current Version: 1.0.1
Description:  Amphetamine is a quick app I wrote to prevent three things:
Screen Saver
Sleep Modes
System Shutdown/Restart
While there are apps out there that prevent the screen saver and sleep modes, I needed one to prevent Windows from shutting down too.
Behavior notes:
Choosing the Save as Default button will save the current settings to the Amphetamine.ini file and will automatically be applied the next time you start Amphetamine.

You may change settings at any time by clicking the button again, or restoring default behavior by merely deleting the Amphetamine.ini file

You can also run Amphetamine with any combination of these command line parameters: (command line parameters always override any settings in an Amphetamine.ini file.)

/NoSleep (prevents sleep modes)
/NoScreenSaver (obviously)
/NoShutdown (again, obvious)
License:  Amphetamine is FREE for all personal and commercial use.
---
Technical notes on both versions:
Amphetamine v2 is an installer version (not portable) with extended functionality and notifications.
Amphetamine does not function by sending keystrokes, it uses pure API to stop the screen saver, sleep modes, and also shutdown/restart.  This means it won't interfere with your usage of the PC or other applications when using input devices such as your keyboard or mouse.
Stopping the screen saver is not done by changing the screen saver timeout values either, so a user's settings are never modified. It is accomplished by calling a certain Windows function to prevent the screen saver on a 6 minute timer.
Preventing sleep modes is accomplished by one single function call for enabling and disabling the behavior.
Prevention of Shutdown/Restart of Windows is accomplished by hooking into Windows and intercepting these functions.

Some services may shut down as they have received the call that Windows was shutting down before Amphetamine could intercept the message and cancel the shutdown. User mode applications do not seem affected at all and continue to run.
On Windows XP/2003, the process is almost seemless and the only indication you may get from an aborted shutdown/restart is Amphetamine's balloon tip message when such an operation was successfully cancelled.
On Vista+ with a user initiated shutdown/restart, you will get the "Waiting for applications to close" screen showing that Amphetamine is preventing the system from shutting down, and giving you the force restart option. Your applications will continue to run but to make the desktop visible again you must close the screen by cancelling the force restart prompt.
Prevention of shutdown/restart will fail completely when that operation is initiated by many of our other tools however, especially those written for PC repair technicians such as the d7x series!
NEW:  d7x now includes 25 resell-able licenses of CryptoPrevent White-Label for each year purchased!
d7xTech Show
Join us for live tech chat, product questions, support, and technical training right here!
Customer or not, you are welcome to drop in and discuss anything 'tech' with us!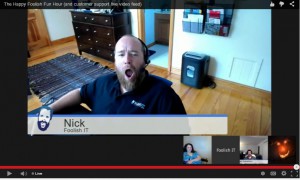 Subscribe to Blog via Email
Categories