Thursday @ 7pm EST, I'm a guest on Podnutz Daily
About
Nick
Founder and Chief Software Architect - After over a dozen years as a computer repair technician specializing in malware removal, I began to focus on my software development hobby, creating tools to assist with the inefficient, repetitive, and mundane tasks PC techs face daily, in order to provide a far more efficient means of getting the job done. I also like preventing malware, but that's another story entirely!
You also might be interested in
I see my recent appearance on Geeksters (Episode 53) has[...]
http://www.twitch.tv/podnutz/b/310295693Also, if you're in need if a coupon code, you[...]
I really thought I blogged this previously.  Hmm....?   Thanks[...]
NEW: d7x "Single Pay" purchase option – buy once use forever!
d7xTech Show
Join us for live tech chat, product questions, support, and technical training right here!
Customer or not, you are welcome to drop in and discuss anything 'tech' with us!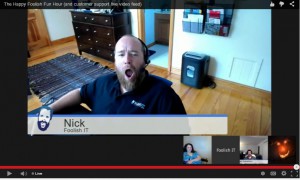 Subscribe to Blog via Email
Categories